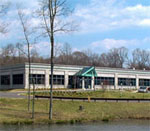 Chesterfield biotech firm Commonwealth Biotechnologies plans to sell off segments of its business to Bostwick Laboratories, which is based in the West End. Bostwick plans to go public this year.
The two companies signed a purchase agreement in which Bostwick agreed to buy two of Commonwealth's divisions for $1.075 million in cash and royalties over a five-year period, according to a news release.
Fairfax Identity Labs is one of the units being sold, which offered DNA testing services. Commonwealth is also selling its CBI Services division, which offers research services to drug companies.
Both divisions were located in Midlothian at 601 Biotech Drive. Bostwick will lease the building from Commonwealth. (The building had previously been listed for sale for $6.4 million with a 10-year lease back.)
Commonwealth retains business units overseas and is in the process of acquiring Shanghai-based GL-Biochem. (You can read RBS coverage of that here.) Chief operations officer Richard Freer was unavailable for comment but said in a statement, "The sale will allow CBI to redeploy capital resources towards other strategic initiatives."
Bostwick Laboratories specializes in DNA and biopsy analysis for diagnosing illnesses such as prostate cancer.
Gary Levine, chief financial officer of Bostwick, was unable to comment on the deal because of pending paperwork with the Securities and Exchange Commission.
Bostwick filed an S-1 with the SEC in March 2008 in preparation for a public stock offering. The process has been delayed, and the company is preparing to file an amendment.
In the original S-1, the company reported revenue of $102.8 million in 2007, up 76 percent from the previous year.

Al Harris is a BizSense reporter. Please send news tips to [email protected].