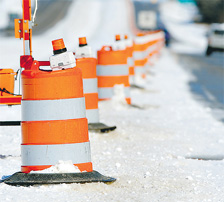 While Virginia has closed 18 rest areas, Texas is adding a new meaning to information superhighway.
The Lone Star state is adding free WiFi and Internet kiosks at all 98 rest areas.
For more about that you can listen to the report on National Public Radio.
Meanwhile in Virginia, both gubernatorial candidates have vowed to reopen the rest areas if they are elected.
Republican Bob McDonnell said he would do so within 90 days of taking office. Democrat Creigh Deeds said he would reopen them within 60 days.
From a report in the Roanoke Times:
"It's a safety issue," McDonnell said. "You close a welcome center, you're basically stamping a 'Virginia is Closed for Business' sign on Virginia. I think that's unacceptable."
Deeds said he also has expressed frustration about the decision to Gov. Tim Kaine, a Democrat, and members of the transportation board. In a conference call with reporters Monday, Deeds said the move could jeopardize highway safety.
"Here's the bottom line: We've got a law that says truckers can only spend a certain number of hours per day on the road," Deeds said. "If we're going to be able to enforce that law, we've got provide rest stops."
McDonnell proposes a corporate sponsored "Adopt a Safety Rest Stop" program, as well as using inmate labor to maintain the rest areas.
The 19 rest areas to be closed (one of which will remain open until September) are estimated to save the state $9 million a year. That means each rest area costs more than $473,000 to operate a year, or $1,300 a day.
Twenty-three rest areas will remain open, which if all rest areas cost about the same to operate, will cost the state around $11 million a year to keep in operation.
One solution being sought by the Kaine administration is to privatize the rest stops. Federal law bars privatization of highway rest areas, but exceptions have been made for other states in the past.
The administration has asked Congress for a waiver and Rep. Frank Wolf said he would offer an amendment that would suspend the federal law in the transportation-spending bill for 2010.