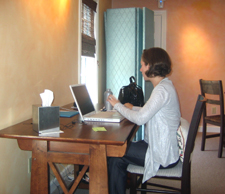 A human can eat only so much Panera.
Three local entrepreneurs think they have a better alternative to the growing throngs of self-employed Richmonders who use Starbucks and Panera as their de facto offices.
In the near West End, Kelly Lewis, Whitney Forstner and Tanya Cummings just opened The Workbox.
"We started our own small businesses because we didn't like corporate America, so we left," said Cummings. "But we missed having people around us, and we missed the everyday interactions you have in an office. So, this was our solution."
Cummings and Forstner also co-own a staffing firm called Momentum Resources.
The Workbox is a house on Libbie near Grove Avenue that has been converted into office space. The downstairs has couches, chairs, tables and a few small work areas. Upstairs there are several large desks with chairs.
The Workbox (slogan: "A Place to Be") comes equipped with everything an office needs: a fax machine, high-speed wireless internet, a kitchen with a fridge, a coffee maker, a large jar of Dum-Dum lollipops and a coat closet that has been converted to a phone booth.
The walls are soft green and the couches are brown and fluffy like the furniture in someone's apartment and not an office. The house is well lit with a homey, decidedly non-corporate touch.
"I missed the environment of having an office to go to," said Lewis. "If you surround yourself with good people, then you can share ideas and really keep each other accountable."
The Workbox rents space out on a daily, weekly or monthly basis to business people who are looking for an office and who maybe miss the amenities of an office.
Self-employed office-space seekers pay from $200 to $400 a month for seating in the downstairs area or $400 to $600 a month for a desk upstairs.
For comparison, a two-cup-a-day habit at Starbucks costs about $80 a month. And the coffee chain charges most people for Internet access.
Most small businesses and startups that lease their own offices are likely to spend between $400 and $800 a month for a 500-square-foot office space. That doesn't include utilities and Internet, which add another $200 a month (and are an enormous headache to set up).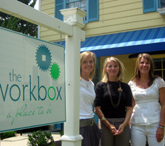 The Workbox co-founders readily admit that there were selfish reasons behind starting the business.
"We like spending time together," Cummings said, "and we thought this would be a good way to both spend time with our friends and surround ourselves with other great people as well."
Forstner said that the Workbox had about 10 businesses that were deciding what level of membership they wanted to settle on, but the interest in such a service can be seen by the fact that it just opened in June. "So far our business has been by invitation only, but we are starting to open up a bit more," Forstner said.
The trio's timing might be perfect. A growing number of former corporate employees from defunct firms like LandAmerica and Circuit City are starting small businesses.
Dozens of other small businesses with office space, including one marketing firm downtown, have taken in entrepreneurs and charged them either small rent or trade for it. Even MeadWestvaco is trying to get into the game, albeit on a larger scale. The paper and packaging company's new headquarters downtown will have extra office space available for rent, although the company is not promising free printing and a collaborative environment.
Cummings said that the location was ideal for people who were used to conducting business at Panera because Workbox is only a block from a Starbucks, several restaurants and Café Caturra. (You can read about Caturra's growth here.)
John Linder, creative director at 93 Octane, a marketing firm, said that his business grew as a result of an office-share that he set up with another firm called RTS Marketing. The two firms shared an office, a billboard, a kitchen, a bathroom and a common area.
"It was kind of like living together before you get married," Linder said. "We realized that our companies were so aligned and had similar interests, so we merged back in 2008 under the banner of 93 Octane."
Linder now has another firm sharing the office with his firm, O'Keefe Brands.
"It has been another great fit," he said. "There is really a lot of benefit to having smart people to share ideas with only a few steps away."
Lewis said that mutual motivation is part of the idea behind The Workbox. One woman who works at the office-share has been working on a book for 15 years. She wrote on the community chalkboard that she would have the first cut done in August.
"Imagine," Lewis said, "working on a book for 15 years and then coming here and saying 'I'm going to have my first draft done by August.' But that's part of the appeal, having your friends and colleagues around to say, 'Hey, how's the draft coming?' It's positive motivation."
More Reading:
Digital Nomads Choose Their Tribes, Washington Post:
The Internet let millions of wired people work from home; now, with widespread WiFi, many have cut the wires and left home (or the dreary office) to work where they please — and especially around other people, even total strangers. For nomads, the benefits are both primitive and practical.
David Larter is a BizSense reporter. Please send news tips to [email protected]