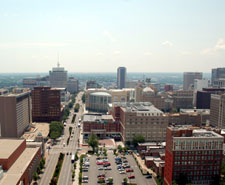 Sometimes there is a shred of truth to an urban legend, or at least the ring of plausibility. That's what gives them the power to perpetuate.
And there's one urban legend that courses through the local business community, and especially in the small business and start-up world: Richmond is one of the hardest places to start a business.
Perhaps you've heard another iteration: If you can make a business work in Richmond, it can work anywhere.
We're trying to see what might be true, and what's just an old wives' tale. Of course, it might also be a way for entrepreneurs who have trouble to displace some of the blame, and it could be the sort of statement that entrepreneurs make in every city.
Scot McRoberts, who worked at the Greater Richmond Chamber of Commerce for nine years and who now runs the Virginia Council of CEOs, said he had never heard it.
"But the one thing I've heard over time is the lack of angel investing and venture capital," he said. "But there is never enough money, and so you have to take that with a grain of salt."
Indeed, Craig Forbes, who co-founded Alpha Omega Wealth Management
in May, said the local venture capital scene is tough for companies that need seed money, so perhaps that is where it comes from.
"I think Central Virginia has struggled from the old mentality, where the older, wealthier people put money in Philip Morris stock and real estate. To get them outside that, unless they are super-wealthy, well, they are just not comfortable with it."
Terry Weisenberger, a professor of marketing at the University of Richmond's Robins School of Business, said that starting a business in Richmond is like anywhere else.
"Cash flow, cash flow, cash flow," Weisenberger said. "Whether it's Richmond or anywhere else, a small business needs cash to run. And I haven't heard that Richmond is any harder to start a business in than anywhere else. But it's not surprising that a lot of small businesses fail, because that's anywhere."
Several large companies have tested ideas in Richmond and then taken them national. That may lend a shred of credibility to the second refrain, that an idea that works here will work anywhere.
Richmond is also one of the most popular test markets in the country. A June 2004 survey by research firm Acxiom Corp. ranked Richmond as the 10th best test market out of 150 cities. The results were based on how the population compared and contrasted to the U.S. population on age, martial status, home ownership and estimated income.
Some concepts that tested in Richmond turned out to be total flops, such as Frozen Coke and Miller Clear Beer.
Others have gone on to do incredibly well, such as CarMax . When Circuit City first revealed they would start selling used cars in 1993, it raised lots of eyebrows on Wall Street. Now the used-car store has outlived the company it was spawned from.
Perhaps the most successful product to ever be tested in Richmond was the beer can. In 1934, the American Can Company convinced Kreuger Brewing Company to let them test their beer in cans. They distributed free samples to 1,000 households in Richmond with a questionnaire. By 1935, canned beer was selling throughout the city.
If you're an entrepreneur, we want to here from you for a more in-depth story on this matter. In particular, please contact us if you've started a business in Richmond and also outside Central Virginia. And perhaps we can get to the bottom of this once and for all.

Aaron Kremer is the BizSense editor. Please send story ideas to [email protected] Al Harris contributed to this story.