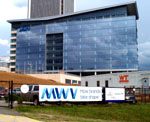 As far as big-name companies in Richmond go, MeadWestvaco seems like an island of stability in a hurricane of woe.
On July 29, it announced second quarter net income of $125 million or 72 cents per share, up from $56 million or 33 cents per share for the period a year ago. (You can read more about the quarterly results here.)  Revenue was lower than last year, but the company was more profitable.
"We're encouraged by the positive results we have delivered in the second quarter despite the bad economic climate," John A. Luke, chairman and chief executive, said in a Wednesday conference call with analysts. "Our deliberate strategic actions to generate higher returns for shareholders are working," he said.
Those "deliberate strategic actions" involve repositioning the Fortune 500 firm away from low margin, old-time activities such as growing pine trees and making paperboard. Instead, Luke wants to push ahead with more modern, higher-margin and upstream packaging such as products that let ailing seniors get their medicine more easily and for high definition Blue Ray DVDs that use less plastic. The firm also sees promise in packaging products for sale in India and China among other countries.
Meanwhile, work continues apace at the firm's $100 million steel and glass headquarters building downtown next to the Richmond Federal Reserve tower designed by the famed Japanese-American architect Minoru Yamasaki.
It will be occupied by December and will boost the downtown business area after other promising occupants, such as Wachovia Securities, have left because of mergers or the recession.
Like any manufacturing firm, MeadWestvaco had been hard hit by the recession and has taken the time-honored steps of shedding jobs and shoring up cash. It announced job cuts early this year of 2,000, including about 55 in Richmond. About 1,260 jobs have been cut so far.
The trimming follows Luke's strategy of shifting products. In recent months, for instance, Luke has sold a kraft paper mill in North Charleston, S.C., and has closed a Wilmington, N.C., beverage packaging plant. In Virginia, the firm has closed a carton plant in Louisa County, laying off 171. Its big Covington paper mill, which is an iconic site where politicians traditionally kick off their campaigns on Labor Day, has had temporary shutdowns. So far this year, a total of 12 manufacturing facilities have been closed, and up to 75,000 acres of timberland are for sale.
As older operations are sliced away, Luke has tried to shore up cash to ride out the recession. Cash flow from operations was $250 million for the first half of the year, compared with $155 million or the first half of 2008. At the second quarter, the firm reported "strong" cash reserves of $623 million.
And MeadWestvaco has gotten a "green" boost in the second quarter with a special $112 million credit the firm tapped for using a biofuel named "black liquor" at its pulp mills. Without the biofuel tax benefit and including $25 million in restructuring charges, profit was 22 cents per share, which was well above analysts' expectations of 1 cent per share, according to Reuters Estimates.
Black liquor is a byproduct of the paper production process; MWV and other paper companies recently started tapping a federal alternative fuel that gives them a 50 cent credit for every gallon they use. According to the Wall Street Journal, the U.S. paper industry is set to collect $6 billion in tax credit this year, which is enough to reduce production costs by 60 percent and the price of some paper goods 25 percent.
(Some congressmen are seeking to end the subsidy. Read more about the controversy here.)
Making products for cigarette packages, an important product in Richmond, where Philip Morris USA has a huge manufacturing plant, suffered "modest" profit decreases. And MWV has seen a small bump in its beer packaging as recession-conscious imbibers shift from bottles to less expensive cans.
Some of the seeds from the new strategy seem to be sprouting. The firm's Packaging Resources unit saw a decline in revenue compared with the previous year, but its Consumer Solutions unit, Consumer & Office Products branch and Specialty Chemicals all reported profit hikes.
Of special note, says company spokesperson Alison von Puschendorf, is the performance of the company's Shellpak brand of packaging pharmaceuticals, which is said to be child-proof but allows seniors to access pills easily. Company officials say that Shellpak is moving on handling generic along with brand name drugs.
Shellpak, she says, is gaining steam quickly and is an example of the way that the firm hopes to continue moving out of low end products and into higher end ones such as packaging Blue Ray high definition DVDs in ways that use less plastic.
In fact, the move to Richmond was part of a plan to develop more advanced consumer products and shift the firm's focus. When MeadWestvaco was looking to leave the expensive New York suburb of Stamford, Conn., it considered both Atlanta and Raleigh, near many of the firm's operations.
Raleigh had an edge because MWV was building a Center for Innovative Packaging for research and development at North Carolina State University. But Richmond won out because it offered better incentives and was closer to such major international airports as Dulles. Moreover, Raleigh is a short car ride from the Virginia capital and the firm has had operations here for years. "We continue to benefit from the proximity to the D.C. area, where we have easy access to government, and finance industry, as well as customers," says von Puschendorf.
At the moment, workers at the corporate headquarters are spread among several buildings in the Innsbrook area near Short Pump. By 2010, about 600 will locate to the new building downtown. That will bring together several disparate company units and help with productivity and innovation, says von Puschendorf.
The new building is being built by NewMarket, once part of the Ethyl Corporation, which has a big laboratory and headquarters operation downtown. NewMarket will lease several floors of the new building to MWV, along with space to other companies.
Although the move is a sure thing, company officials say that divining market conditions for the second half of 2009 is a hazy affair. Chairman and chief executive Luke told an analyst at the conference call that "we're seeing stabilization and good initiatives" but "dark clouds" make the rest of the year hard to predict.