The views expressed in Guest Opinions represent only those of the author and are in no way endorsed by Richmond BizSense or any BizSense staff member.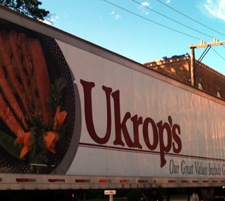 Strongly embracing a well-thought-out set of values is essential to the success of any business or organization.
Writing them – and even living by them day-to-day – is the first and easiest step. Being faithful to stated values when push comes to shove is far more difficult, and true colors often are revealed when such values are kicked to the curb.
When news broke in mid-July that Richmond's iconic grocery store chain, Ukrop's Super Markets Inc., was shopping for a possible buyer, the loudest reactions seemed to fall in one of two categories: "Oh, no!" or "Excellent!"
Many who had the former response associate Ukrop's with fresh prepared meals, overall store appearance and the "let-me-take-you-to-it" approach and sense of pride that made the company a national model for customer service and places to work.
Many also reacted with anxiety because of the company's deep philanthropy and support for several popular, long-standing events. Do you like your Monument Avenue 10K? Your Christmas parade? The Golden Gift program that has distributed $12 million to local nonprofits? Thank Ukrop's.
Through consistent demonstration of its values in the areas of customer service and community relations, Ukrop's embedded itself in Richmond's collective psyche.
But while Ukrop's brand loyalty might extend to the salad bar and the bagger who rolls overfilled carts to the parking lot, it doesn't appear to run so deep when it comes to identifying with Ukrop's as an entity or watching our wallets. When the economy tanked, Richmonders didn't hesitate to take their business to Food Lion, because everyone knows its prices are lower, and now it's No. 1 in the market. Hey, we're not that loyal.
Even worse, some area residents actually took enjoyment in the news of a possible sale because of another set of company values that is just as well known if not so loudly trumpeted. Brothers Jim and Bobby Ukrop have over the years held firm on policies such as remaining closed on Sundays and not selling alcohol.
Although that is their prerogative, basing corporate values on religious or moral principles can have disadvantages. They can alienate customers with different beliefs in an increasingly diverse community. In fact, in an age when one can buy a bottle of 151-proof liquor at a state-run liquor store in Virginia on a Sunday, some of Ukrop's policies have been characterized as puritanical and overbearing.
Deserved or not, the perception exists even in parts of Richmond's white establishment that the Ukrop family runs Richmond, or thinks it does. For all of their good deeds, the Ukrops are to some the direct embodiment of a restrained, square and outright backward attitude that for decades has held Richmond back from being all it could be.
Regardless of individual emotional reactions, the impact of any sale on the community would be dramatic. The chain employs almost 3,400 people in the Richmond area. It has 28 stores, just three of which are outside the Richmond region. That is no small chunk of anchor commercial real estate space, which in turn represents a tidy sum of local tax revenue. Not to mention no more white house rolls.
The Richmond community first got wind of all this July 14, when online grocery trade publication Food World reported that Ukrop's had floated a prospectus – a detailed report on its assets and market share – to potential buyers. The local media and blogosphere went wild. Ukrop's should have been prepared for this or possibly even announced it themselves. Rather, its owners seemed either caught off-guard or unable to be bothered with it.
In a postal letter to employees dated the next day, Ukrop's president and chief executive dismissed news reports as "rumors, anonymous blog postings and industry chatter." Hardly. The company put out a "for sale" sign. Subsequently, yes, rumor was rampant.
The Ukrops had an obligation to quickly explain the matter to the two main groups that supported it for 52 years – employees and customers. Instead, the company has declined comment to the media and been disingenuous with employees, whom they expect to continue to show up each day with a good attitude until they're told not to.
In his letter, Bobby Ukrop went on to tell worried workers, "Anything I say at this point would just add fuel to the fire. For example, I could say that, yes, other companies are interested in buying Ukrop's. But the truth is there have always been companies interested in buying us, so there's nothing new here. So, I'm not going to comment on rumors because if I responded to each one, I wouldn't have time to get much work done."
I'm sorry, gentlemen, are we wasting your time with this? Listen, it isn't all about you. It's about your company values and the groups to whom you promised them.