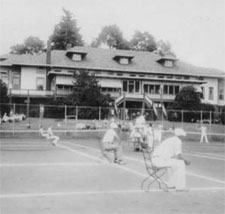 A Richmond-based development firm could soon purchase a Lynchburg country club, but they aren't interested in playing golf.
East West Partners of Midlothian has entered into a purchase agreement with the owners of the Oakwood Country Club to buy the club's 75-acre golf course tract and develop a residential neighborhood.
The sale price is between $2.5 million and $3 million.
The nine-hole course, which was built in 1914, closed in 2007. The course was semi-public, meaning people had memberships but the public could also play. (Click here to read a story about how golf courses in Chesterfield are trying to make sure they don't get turned into housing developments.)
Jim Beckner, a senior vice president of East West Partners, said due diligence is underway.
"We need to do further market analysis," said Beckner. "We've been working on it since May. Of course it is subject to site approval and pre-sales of the target product."
Beckner said that he could build as many as 170 homes on the site but probably would build fewer, considering the topography of the site. He said that if they close on the property they plan to get started right away on the permitting process, which could take about five to six months, and then start building in early 2010.
As part of the agreement, the country club will continue to own and operate the clubhouse and recreation facilities including tennis courts and a swimming pool. The club  sent out a request for development proposals last year in part to help pay off an unspecified amount of debt.
Beckner is no stranger to the club. In the 1980s, he worked there as general manager.
"I called folks I knew there and said, 'If you decided you want to develop, give me a call,'" he said.
But East West wasn't the club's first choice. Celebration Partners of Charlottesville also responded to the club's initial request for proposals and was awarded due diligence. That company backed out in April.
Joe Barnes, one of the partners at Celebration, said they came up with several scenarios for the project.
"We developed a series of different studies to understand the capacity of what could go on the property in a manner that would respect and honor the legacy of the neighborhood and be appropriate for the club and their members," Barnes said.
In the end, the two parties couldn't agree on a plan in both of their best interests. But Barnes said the selection of East West partners might end up being a promising venture.
"They are a really good organization. When I heard that they were picked, I was excited to hear that," said Barnes. "They will do something great there."
East West Partners is the same firm that developed Brandermill and Woodlake in Chesterfield. They are in the process of building another master planned community in New Kent County called Patriot's Landing, which will offer 640 homes on 255 acres. Those homes are priced between $200,000 and $800,000.

Al Harris covers commercial real estate for BizSense. Please send news tips to [email protected].