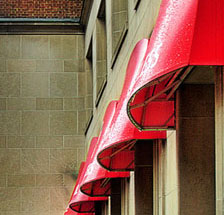 One awning company thinks a competitor snuck into the Richmond market illegitimately. And tempers are flaring.
Petersburg-based Roberts Awning is occupying the old Norvell Awning company headquarters in the Scott's Addition section of Richmond.
Roberts is also calling back customers who call Norvell Awning, which filed for bankruptcy July 10. (You can read about that here.)
Bill McSpadden, chief executive of Capitol Awning, said that Roberts Awning had moved into the Norvell office on Arlington road and that Roberts had been using Norvell assets such as contact lists and customer files, which gives them an unfair advantage.
He said those assets should be auctioned off to pay creditors in a Chapter 7 bankruptcy proceeding. Norvell had 46 creditors who are owed about $1,026,000. At the time of the bankruptcy filing, some customers had paid for new awnings and had not received the product or work.
"We request that the trustee secure the premises immediately and demand return of all proprietary customer data, and require Roberts Awning to return any customer data and enjoin them from using any such data," McSpadden wrote in a legal note.
"Those records are assets," McSpadden told BizSense. "They should go back to paying off the creditors and should be sold to whoever wants to buy them. They shouldn't just be available to whoever comes along first."
Roberts Awning Company denied that they had any unfair advantage and denied acquiring company assets.
"What assets?" said Karen Kovacks, who is temporarily working at Roberts Awning. "When we got here, the office was a wreck. All the equipment was already sent to the dump, and the records they did have were in such bad shape they were practically useless.
"We're not getting anything for free."
Kovacks' roots in the awning business go back generations. Her  great-grandfather C.B. Norvell started Norvell Awning in 1899, and she works for Roberts Awning, founded by the Roberts family in 1912. Kovacks and her father, Buddy Kovacks, occupied the old Norvell office two weeks ago after Norvell Awning filed for bankruptcy. Buddy Kovacks ran Norvell Awning for decades before selling in the 1980s to John Watkins, who ran the company for 15 years.
Watkins brought Richard Reynolds IV on as a business partner and was later bought out.
Buddy and Karen Kovacks moved up to Richmond and are attempting to clear their family's name by going back and finishing work that Reynolds had left unfinished, Kovacks said.
"Bud Johnson [Owner of Roberts Awning] has been doing this out of the kindness of his heart," Kovacks said. "And he has been doing it at a huge financial loss."
Kovacks said that Roberts Awning has not been listening to messages on Norvell's answering machine or fielding phone calls for the defunct company. She said the numbers had been obtained through attorneys involved in Norvell's bankruptcy.
Kovacks said that Roberts Awning had taken over the lease from Norvell and that Roberts Awning had hired two former employees from Norvell Awning.
Neither Bruce Matson, trustee for the creditors, nor Robert Westerman, Reynolds' lawyer, returned multiple calls for comment by press time.

David Larter covers small business for BizSense. Please send news tips to [email protected].