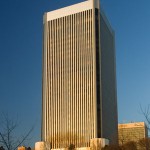 The Federal Reserve released its quarterly snap-shot of the Richmond district economy, the Beige Book, and the news doesn't sound good.
Retail and commercial real estate jump off the page as the weakest sectors of the regional economy, but there are few "green shoots" to be found.
From the report:
Retail and services firm revenues continued to shrink, and contacts reported falling wages and steady or declining employment levels. Price growth in the service sector was slow. Commercial real estate activity softened further, with declining rents, increased concessions, and rising vacancy rates in some markets. Commercial lending activity continued to decline as loan demand remained subdued and some institutions reported tightened credit standards.

The report also showed that investors were still hesitant to put money into the market in the financial services sector, something BizSense reported on in July.
The Fed also said that residential real-estate in Richmond specifically was more sluggish than ever.
The lone bright spot in the report was continuing improvement in the manufacturing sector.
On a brighter note, manufacturing activity continued to strengthen in recent weeks as contacts reported increased shipments, new orders, and capacity utilization, and a moderation in the employment decline.
Richmond is home of the 5th Federal Reserve district which includes the District of Columbia, Maryland, North Carolina, South Carolina, Virginia, and most of West Virginia.
David Larter is a BizSense reporter. Please send news tips to [email protected]