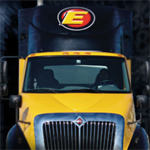 "Companies in trouble never give customers a heads-up that they are near the end."
That's what salespeople for Richmond-based Estes Express Lines are being told to tell customers of competing trucking firm YRC Worldwide.
With a 35 percent decline in second quarter freight shipments, YRC is on the ropes and its competitors are taking a no holds barred approach to picking off clients, according to a story in today's Wall Street Journal.
From the article:
In the meantime, rivals such as Estes Express Lines, Con-Way Inc., FedEx Corp. and Saia Inc. have moved to undercut YRC's prices or talk up the carrier's financial problems with potential customers, letters and other documents show. The weak freight market has left these companies, like the rest of the industry, hard-pressed to fill their trucks, and the demise of a major competitor would give their fortunes a boost.
The WSJ obtained a copy of talking points distributed to Estes sales people. One of the points is to play up YRC's Standard & Poor's credit rating of triple-C and warn that YRC's lenders could recall loans at any time.
Estes has more than 13,000 employees and 30,000 trucks and trailers according to their website. The company was founded amid the Great Depression in Southwest Virginia.
The article continues:
William Hupp, chief operating officer at Estes, said its sales force got the talking points several weeks ago. He said Estes is simply educating customers about economic realities.
YRC operates trucking lines Yellow and Roadway. In April the company shut down the Richmond terminal of another one of their lines, USF Holland. Those operations were consolidated with another subsidiary's terminal in Richmond. You can read more about that here.
And in case you were wondering, dead-heading is CB slang for driving a truck with an empty trailer.