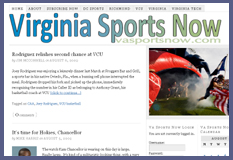 Even business reporters know that most guys flip to the sports section first.
And that probably means there's a huge business opportunity for the group of veteran sports writers who launched Virginia Sports Now on Monday.
The site is free in August but will have a $25 a year subscription starting in September.
"We want to fill in the gaps, provide some of the coverage [newspapers] aren't able to provide," said Mike Harris, a 30-year veteran Times-Dispatch editor who most recently worked in communications for the VCU Athletics Department.
Harris will handle the business operations, as well as share writing duties with three other writers.
"No newspaper in the state is as big as it used to be, not the Washington Post or the Times-Dispatch. There is simply no way with fewer people [papers can report the same amount of news]," Harris said.
The site will focus mostly on the major state colleges — UVA, Virginia Tech, the University of Richmond and VCU — with some coverage of Washington pro teams.
During peak football season, the site will have up to six stories on game days and two or three on weekdays, Harris said.
"At the Times-Dispatch, I had my stories seven hours before they appeared in the paper. I want people to read it on their BlackBerrys on their way home. But not if they're driving."
Jeff South, a VCU journalism professor who follows the media business closely, said that niche products like Virginia Sports Now show a lot of promise because they can offer more in-depth reporting than general interest publications.
"It may be easier to tap a subscription model base built around deep information rather than wide information," South said.
"Plus, the audience is very focused for an advertising base."
Harris said he hopes to add 10,000 subscribers every six months.
The layout, which was done by local website design firm Richweb,  is meant to be simple, Harris said, adding that he'd like some advertising but doesn't want the pages cluttered with ads.
Business Model:
For now the writers are working for free, but Harris said he'd like to expand to six paid full-time reporters.
The other three initial contributors are:
Angela Watts, formerly of the Washington Post
Michael Litos, a CAA historian and author
Jim McConnell, formerly of the Fredericksburg Freelance-Star
All are partners in the business.
"I think six is plenty to do what we want to do. If we have a team, let's say University of Richmond playing at [the University of] Massachusetts, then I have a strong network of writers and can hire a freelancer. We won't be at every single game, but somebody representing us will be."
One of the biggest challenges in the paid-subscription model is to report the sort of news that readers will pay for. Virginia Sports Now may also compete with several school-specific sites that also require subscriptions. For example, UVA has TheSabre, and Virginia Tech has TechSideline. Both provide the sort of minutiae that only fanatics would care about. But those fanatics pay for it.
Virginia Sports Now will be broader than those school-specific sites, Harris said.
"There is a need for the school-intensive sites. And there is a need for a school's athletic website. We intend to complement, not compete," Harris said.
And having decades-long connections at Virginia colleges should help, said Harris, 59.  Already the site has profiles on UR football coach Mike London, with other scoops in the hopper.
Harris has registered several other domain names for other states so he can expand should the concept take off.
Harris said he is seeking investors so he can hire more writers and speed up the site's development. He has talked with several investors but so far has gotten only nibbles.
"I am confident within six to eight weeks we will have investors," he said. "It's a hard time for anybody to throw down a chunk of cash for a wing and a prayer. But this is more solid. We have a solid business plan and are confident it will work."
Aaron Kremer covers local media for BizSense. He is also the editor. Please send news tips to [email protected].