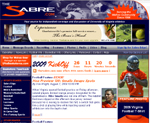 The honchos at big media companies like CBS and News Corp (which owns the Wall Street Journal) are warning that soon online content will be for paying customers only, like every other business, where you pay for what you use. Or at least like a buffet, where you pay to get a plate.
Last week, BizSense wrote about VirginiaSportsNow.com, a sports website that will cover college sports across Virginia. The site will charge readers $25 a year for full access to all the stories. (You can read the story here.)
All the hubbub makes it seem like this is all uncharted territory for the news media. But that's dead wrong. Will Stewart, who owns a company called SportsWar that runs sports-fan-related websites for both UVA and Virginia Tech, has been charging subscribers for a decade.
Below is an edited transcript of our chat with Stewart.

Richmond BizSense: Can you run a sustainable business writing for subscribers?

Will Stewart: The long answer: At this point, we have enough subscribers and enough ad revenue that we employ five full-time employees.
RBS: How do you produce the sort of content people will pay to read?
WS: We try to talk to fans and view the world as they do. It has to be something people can't find anywhere else, and it has to be good. It's that simple.
RBS: How many subscribers do you have for The Sabre and Tech Sideline?
WS: In total, between the two of them, we have less than 10,000 subscribers. We've been in place for many years and built up to that number.
RBS: How many people will pay for specialized content?
WS: There are a lot of sports fans out there, but the percentage that is willing to pay for content and really examine the intricacies of the sport, and follow it really closely, is limited.
If you go to Lane Stadium [the home of Va. Tech football], there are women and kids and people that like to watch the game and don't think much more about it. The subscription model for sports coverage is something with limited appeal.
RBS: When did you start?
WS: We started in the mid 1990s and have had a subscription model since late 2000.
Getting people to pay for content wasn't something you did back then. The idea [at the time] was that you run it for free and make money on advertising. The subscription model didn't get introduced in college sports until the late 1990s, with Rivals.com charging for recruiting coverage.
But the two sites are a bit different. The Sabre has a writer with a journalism background and a press credential to cover the program. That's not the case at Va. Tech, where Tech Sideline is more of a fan site. So on that site, our specialty is commentary and analysis. We put things in perspective.
RBS: What sort of growth is there in your model?
WS: We've been around a long time, and we've got what you could call market saturation. We've reached everybody whose going to consider subscribing.
Aaron Kremer is the BizSense editor. Please send news tips to [email protected].