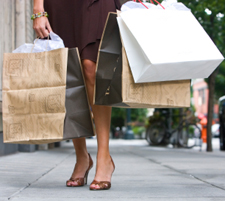 Frugal is the new black in Richmond.
And that's realigning the winners and losers in the local retail world.
Total taxable sales during the second quarter totaled $2.64 billion for Richmond, Henrico and Chesterfield combined, according to recently released information from the Virginia Department of Taxation. That is 4 percent less the same quarter in 2008.
However, it is a 1.9 percent higher than the first quarter of this year, which at first glance suggests consumers are loosening their wallets a little bit, although sales are heavily seasonal.
Still, most retail industries saw declines.
"Sales are sluggish," said Ken Gassman, a Richmond-based retail analyst who covers national trends. "It hasn't plummeted, but it is certainly not growing."
Gassman's specialty is the jewelry industry, which he says is down 15 percent on a year-over-year basis. Although that isn't good, he said it could be worse.
"In the Great Depression, from peak to valley, jewelry sales were down 70 percent," Gassman said. "That is a problem. Fifteen percent isn't a problem."
In this economy, Gassman said, discounters are doing best because they offer the perception of value.
"Look at department stores, do they offer value? Not really. Those numbers are the worst," Gassman said. "The stores that are doing well are Wal-Marts and Family Dollars."
General merchandise stores (think Wal-Mart and Target) are the area's biggest generator of sales tax revenue. In the most recent quarter, those stores earned $399 million in revenue. That's up 5.7 percent from a year ago.
The area's second biggest cash cow is grocery and convenience stores, which earned $378 million in the second quarter. That's up 2.6 percent from a year ago.
Restaurants and bars are more or less steady, with $290.9 million in sales during the second quarter compared with $297.2 million last year, a 2 percent difference. People seem to eat out a lot more in the spring than they do during the first three months of the year, when restaurants earned $277 million. (Click here to read about several new restaurants opening up in the downtown area.)
Industries that have steadily declined since last spring include building supply/home and garden stores, clothing stores and furniture stores.
Indeed, furniture dealers have been especially hard. Area sales totaled $51.66 million in the second quarter, a 40 percent drop from a year ago. Richmond furniture stores have been hit the hardest with sales declining 65 percent, from $32.5 million to $11.42 million, in the same period. A few furniture stores have disappeared, including E3 in Carytown and Wicker Gallery on Broad Street. (BizSense has also seen a big increase in the number of used car lots that seem to go out of business.)
Stores selling building and garden supplies, such as local hardware stores, at $148.6 million were 14.5 percent behind sales in the second quarter this year compared to last. But spring gardening and warm weather improvement projects have given them a much-needed boost from the first quarter, when they only raked in $101.65 million.
With $128 million in the second quarter, clothing stores sales are off 11 percent from last year.
But there are exceptions. TJ Maxx (whose parent also owns the discount clothing store Marshall's) is seeing sales gains of about 5 percent.
And Lori Collea, who owns two Plato's Closet stores in Richmond, which sell secondhand name brand clothing. Her sales last month were up about 20 percent over last year.
"Our clothes are priced about a third of what they charge at the mall," said Collea. "While everybody else is down, we right now are trending year to date a 22 percent increase over last year."
A story heard throughout the downturn is that repair shops are doing gangbusters, but that might be a myth. Repair and maintenance companies earned $31 million in sales during the second quarter of this year, about $400,000 less than they did last year.
Al Harris covers retail for BizSense. Please send news tips to [email protected].