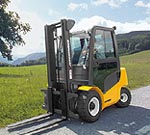 For the past five years, an 80,000-square-foot facility near the Richmond airport has served as the U.S. headquarters for a German forklift manufacturer.
But by Jan. 1, the operation will close, and some of its 57 employees are moving to Texas.
The company, Jungheinrich AG, signed a manufacturing and distribution agreement with Mitsubishi Caterpillar Forklift America. Mitsubishi Caterpillar's U.S. operation is in Houston.
John Sneddon, president of the company's U.S. division, said some employees are being offered jobs with Mitsubishi Caterpillar.
"We've got a number of employees already in discussions talking about transferring to MCFA. A second group will be offered positions back in Europe," Sneddon said.
Sneddon said he will return to Europe to continue working for Jungheinrich.
Under the agreement, Mitsubishi Caterpillar will become the exclusive distributor for Jungheinrich products in North America, and Jungheinrich will also design new products to be manufactured by Mitsubishi Caterpillar.
The Richmond facility was a distribution hub for the company's products, which arrived from Europe though the Norfolk International Terminal. It also served as a sales and service center for North American customers.
The agreement also directs Jungheinrich to establish a design center in Houston to develop warehouse products.
Sneddon said the deal will strengthen both companies' positions in the market.
"MCFA is a market leader in distribution in North America with very strong channels, and Jungheinrich is known for its quality and innovation," said Sneddon.
Jungheinrich leases the facility at 5601 Eastport Blvd.
Al Harris is a BizSense reporter. Please send news tips to [email protected].