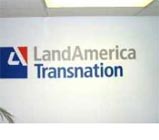 There's always a silver lining.
For local companies that need new exhibit displays, LandAmerica's old units are on sale. The company declared bankruptcy in November.
Display, Designs & Signs will be selling the marketing paraphernalia, which has accumulated over the last decade between August 21 and 25.
Some of the big signs, which can span 10 feet or more, cost $1,000 or more. They will be on sale at half the price, although buyers will need to order new graphics, said Michael Boykin, the company's owner.
Also of note, the LandAmerica jet recently sold.