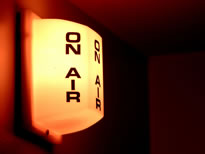 If you listen to radio, chances are you heard an ad produced by Glen Allen-based Robinson Radio.
The firm founded about five years ago by Buck Robinson is one of the fastest growing businesses in the country.  The company  is an advertising agency that exclusively produces ads for radio.
The company earned $10.2 million in revenue in 2008, that's up 1,609% from 2005 when it earned just over $569,000. The rapid growth earned the company spot number 97 on the latest Inc. 500 listing of America's fastest growing companies.
BizSense caught up with Robinson to talk about the radio biz and how he managed to grow his company so quickly.
Below is an edited transcript.
RBS: How did Robinson Radio get started?
Buck Robinson: It started literally out of my house, not my garage — a little more high class than that.  We stayed in the house for a while, it was a one-man agency and I was very happy with it. But I was forced into growing it and it has been doubling in size every year.
RBS: How have you managed to navigate the downturn?
Robinson: We've been able to increase our client base substantially despite the economic conditions. Based on the plans we have and the caliber of clients, 2010 is going to be a phenomenal year. Other ad agencies are streaming away from radio. I hate to say it but we are last man standing.
RBS: How did you find your first client?
Robinson: It was late 2004, our first full year. The client was actually a friend of mine in Richmond who was launching MediaZone (an Internet marketing company) and was running a promotion with a free Xbox component. He was an entrepreneur, I was an entrepreneur and we helped each other along the way.
Now we are working with billion dollar brands, not that we don't work with entrepreneurs any more, we certainly do.
RBS: What are some of the clients you are working with now?
Robinson: Recently the biggest campaigns we are launching now are for a product called Proactiv, the number one acne product in the world. We are also doing campaigns for P90x, Your Baby Can Read and Stoprepairbills.com
RBS: With more and more media options, what is radio's future as a medium?
Robinson: Radio is a growing medium, But it's growing by morphing away from the traditional AM/FM. Now there is satellite and streaming online radio. Now with the number of handheld devices, we are finding that the biggest growth potential is moving beyond your traditional car radio.
Those new outlets need the same methodology and expertise that worked for us in AM/FM works in expansion media.
RBS: What has been your secret for growing the business so quickly?
Robinson: It comes from focus and just staying inside of one discipline. If a client says, "Can you tell us how to do TV?"  Most agencies say we can do that and try to figure it out. Instead of diluting ourselves, we've been very clear this is what we do. If you want TV we have a preferred agency we refer to, the same with print. The secret is not getting into this jack-of-all-trades-and-master-of-none conundrum and become best at what we do in one little niche.
RBS: What is your market penetration?
Robinson: I would say in the greater radio advertising world our share is miniscule, just about five percent. In direct response radio, which is a slice of a slice of a pie, we have about 25 to 30 percent.
Direct response is a radio commercial that has a call to action associated with it, call this phone number or go to the website.
RBS: Do you do celebrity endorsements? Is that an effective way to sell a product?
Robinson: We do a lot of work with celebrities, with us it mostly on-air personalities, like Sean Hannity and Glenn Beck, and here in town Jimmy Barrett.
The endorsement side of it is quite unique in a sense in much the same way television people's version of nirvana is to get Oprah to endorse your product, or even Rush Limbaugh you can say has that kind of an audience in terms of his reach.  We have a lot of little Oprahs, I mean that there is numerous personalities that have an intimate trusting base with their audience. If you can use that your advertising message truly stands out and allows that credibility to come through to your products and services.
If Jimmy Barrett says I should shop there, then that's where I go because I trust Jimmy.
RBS: What are your plans for the next year and beyond?
We started in direct response but we are finding our expertise in general is having a similar appeal to those brand and image advertisers.
Recently we launched another company, Robinson Radio Networks creating long form 30 to 60 minute radio infomercials. Also we are launching Robinson Interactive that is focused on the online component working with websites, creating iPhone apps, and streaming content for radio stations, or going after Internet only radio like Pandora.
We are realizing the need to have a West Coast presence; an awful lot of clients are out there. Also building out into the Hispanic radio is an enormous area of opportunity and growth. Most of the folks we need to have that expertise are in places like New York, L.A. and Miami. We may end up setting up a satellite office somewhere else in the country.
Click here to read a BizSense story about one of the most popular radio ads in Richmond.
Al Harris covers small business for BizSense. Please send news tips to [email protected]