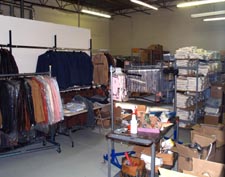 And from the ashes, new life emerges.
Sounds biblical, but in this case it applies to three entrepreneurs who have a plan to sell low-priced menswear online.
Bert Hardy and two other former S&K Menswear executives are trying to take the S&K model and cut out the stores, leaving a profitable online operation.
They first tossed around the idea six months ago while helping S&K wind down.
"We want to run it exactly how S&K ran the Internet business," Hardy said. "At its peak, that did $1.5 million a year in sales, which made it one of our bigger stores."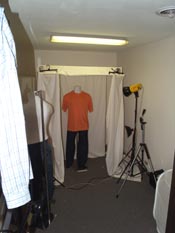 They've leased and filled a 3,000-square-foot warehouse off Staples Mill Road and launched the website for their new company, Direct Menswear.
Kevin Ferguson and Brandon Atkinson are the other two partners, and the wives of all three are involved. Ferguson was a networking director at S&K, and Atkinson managed the S&K website.
And it's not just the know-how they're importing from S&K. The warehouse is filled with shelving, dollies and pallet jacks they bought from the bankrupt company — at a huge discount.
Hardy said he's also considering bidding on the S&K name, but only up to $5,000 or $10,000. Several other firms have put in bids, Hardy said, and it's not clear yet what price the name will fetch. In the meantime, visitors to S&K's former site are redirected to Direct Menswear through a temporary agreement with the bankruptcy estate.
As for the business model, Hardy said the company will sell some of the same brands as S&K, including Kilburne & Finch and Oscar De La Renta.
"It's pretty much the same product lines," Hardy said. "We're trying to use the same vendors. They've been great. They lost a big consumer of their goods [S&K] so they are anxious to deal with us."
Hardy said that beyond the big department stores and men's-only shops such as Men's Warehouse and Jos. A. Bank, there isn't that much competition online. And the business is meant to run leaner than those with brick-and-mortar locations.
Hardy is the only one bankrolling the business, but he secured a small business loan from First Capital Bank.
The online retail game can be fiercely competitive, with one or two dominant players who establish a reputation for the lowest price, a la Amazon. But Hardy said he thinks his startup can compete on price, in part because established chain stores don't want to tarnish the perception of value on their merchandise.
"S&K couldn't liquidate without damaging the brand. It's really not that way on the Web."
"We have a lot more options to move merchandise. S&K always had a problem moving that stuff."
One key to the business, Hardy said, is to gain awareness without spending a fortune on marketing. That means search optimization, so when potential customers search for suits, or specific brands, Direct Menswear pops up.
The website, which launched a week ago, is generating between 10 and 20 customer calls a day.
"We're getting our sales and promotions together, but I'm thinking of putting something up like a buy one, get one free. Just like S&K."
Aaron Kremer is the BizSense editor. Please send news tips or casual menswear fashion tips to [email protected]