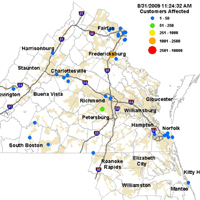 Sitting in the dark, waiting for the power to come back on can be a drag.
But if you are lucky enough to still have juice in your laptop and a working Internet connection, you can find out about how long you'll be waiting and how many of your neighbors are also in the dark.
Dominion has added an interactive outage map feature to their website. (You can find it quickly by typing 'outage' in the search field on Dominion's homepage, or you can click here.)
The Outage Viewer map uses colored dots to indicate the size of the blackout and displays how many customers are affected and when power is expected to be restored.
For instance, on Monday morning, there were 85 customers in Chesterfield County without power and 274 in Stafford County. Power was to be restored later that afternoon, according to the map.
But if you rely on Dominion-provided electricity to power your computer and modem, you can still call the company's information line at 1-888-667-3000.
The upgraded phone system will call you back if service restoration takes longer than expected.