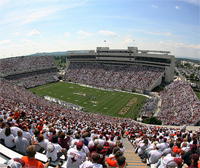 It's no surprise that at Virginia universities with winning football programs, season tickets sales are steady or growing. No recession there.
Take Virginia Tech, for example, which is coming off a win in the Orange Bowl and ranked No. 7 in preseason polls. Season tickets were sold out even earlier than last year, according to the school. The only available tickets are those from that go to opposing schools and have been returned to Tech.
And more fans at the University of Richmond bought season tickets, 2500 since April. That's up 25 percent from last year, according to Jana Ross, assistant athletic director for marketing and fan development.
And sponsorships are on pace grow 5 to 10 percent at UR, according to Brandon Forbis, general manager of Spider ISP sports network, which handles the corporate marketing arm of University of Richmond Athletics. Most of those dollars are geared towards the big sports — football and basketball, he said.
"We've had several of loyal sponsors increase commitment and found a number of new sponsors," Fortis said.
This is the last year UR will play off campus before moving into its new on-campus stadium. The business office for the athletic department is still marketing specials. The team is advertising a buy-one-get-one-ticket free for the game against Hofstra on September 19 and a $10 ticket against the University of Massachusetts in October.
That mirrors what's happening around the nation, where football programs are discounting tickets and coming up with creative packages. (You can read more about that in this neat story from the AP)
Meanwhile at UVA at the end of July, season ticket sales were down 14.6 percent. Craig Littlepage, the school's athletic director told the Daily Progress, "What we're finding with our 2009 season ticket sale is not unique compared to many schools around the country," said Virginia athletics director Craig Littlepage. "That's why we're trying to be creative in these difficult economic times by offering ticket packages that provide fans the opportunity to see Virginia football."
UVA has several ticket packages to try and spur more sales including lower prices. Sales may also suffer this year because fewer marquee opponents are coming to Charlottesville.
Aaron Kremer is the BizSense editor. Please send news tips to [email protected]