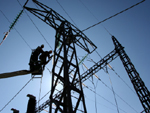 Dominion Resources will go ahead with a $780 million sale of its Pennsylvania gas utility Dominion Peoples Gas to SteelRiver Infrastructure Fund—a San Francisco-based investment group. The deal could close as soon as next month.
The Richmond-based energy company had hoped to sell Peoples along with another gas utility it owns in West Virginia, Dominion Hope. But West Virginia regulators did not approve that sale, putting the entire deal at risk. Dominion has been trying to sell both companies for the last five years.
Dominion acquired both utility businesses in 2000 when it took over Consolidated Natural Gas, which also included the East Ohio Gas Company, now Dominion East Ohio.
More from the Pittsburgh Tribune-Review:
"This is a positive deal for Dominion — it's a relief for them," analyst Andrew Pusateri with Edward Jones in St. Louis said.
Dominion "has been trying since late 2004, early 2005 to sell the (Peoples) company," he said, adding the corporation saw greater opportunities in the natural gas distribution business with its much larger Dominion East Ohio. The Cleveland-based utility has 1.2 million customers.
Once Peoples is sold, Dominion will continue to handle customer service calls and billing functions for up to 18 months. Dominion, under terms of the deal Pennsylvania regulators approved in November, will put $35 million into a trust to be used as rate credits for customers for up to three years.
Dominion said the Hope unit will be merged with Dominion East Ohio.