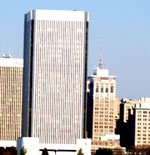 The Fifth District economy is  a mixed bag.
The Federal Reserve Bank released its first Beige Book report of the year, which provides an anecdotal snapshot of the area economy.
The Fifth District includes Virginia, West Virginia, North Carolina, South Carolina, Maryland, and Washington D.C.
Among the highlights: Import and exports activity increased, banking activity received a "modest boost", and there was some "encouraging signs" noted in office and retail leasing.
And the lowlights: Retail and service firms reported declining revenues and manufacturing activity turned down in December.
As for the central Virginia area, the Beige Book has a couple mentions:
Big-ticket sales languished, notably at automobile dealerships. However, an executive at a hardware chain in central Virginia reported that revenues and customer traffic were up slightly, which he attributed, in part, to "a little movement" in the local housing market.
Another mention in real estate (which seems slightly contradictory to the previous mention):
The Fredericksburg housing market had steady sales and a local agent noted that the tax credit program was "keeping people in the game." However, in Richmond, a contact reported that while buyers continued to look, few had shown urgencies in making offers.
And another in temporary employment:
A Hagerstown agent expected stronger demand for workers due to a slight improvement in the overall economy. Likewise, a Richmond agent was optimistic about stronger demand for workers at her agency in the near future, due also to some signs, albeit slight, of economic recovery as well as actual improvements in selected divisions of the agency
Read the full report here.