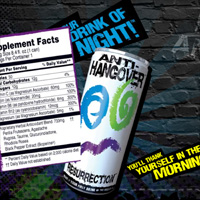 Throwing back scotch and waters after work can be a whole lot of fun, but not so much when you have to get up and work the next day.
A solution to this age-old dilemma may soon be hitting shelves in the Richmond area.
According to industry publication Drink Business Review, Richmond-based Loveland Distributing will soon be stocking Resurrection, an anti-hangover drink produced by Fusion Premium Beverages.
Fusion Premium Beverages, a division of Omaha-based Bond Laboratories, claims that if you drink a can of Resurrection before you start pounding booze it will prevent the dreaded hangover in the morning.
From the article:
Mark Stepanian, president of Loveland Distributing, said: "We see this partnership as an excellent opportunity for us to be a part of something new and exciting in the beverage industry and believe that Resurrection anti-hangover drink will be an important and profitable addition to our portfolio."
To find out more about Resurrection, check out their website here.