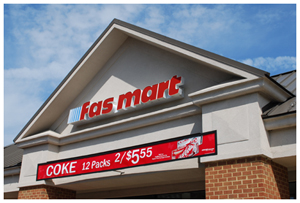 The Israeli holding company that owns Petro Group Ltd., which owns GPM Investments–the operator of Fas Mart convenience stores, is selling its stake in Petro Group to an Australian company.
GPM Investments operates 350 gas stations under the Fas Mart, Shore Stop and Double Kwik brands. The company has headquarters on Magellan Parkway of of East Parham Road in Henrico.
Fas Mart was founded in Mechanicsville in the early 1980s. In 2003 it was purchased by GPM which at the time was controlled by a different Israeli holding company. The convenience store chain had entered Chapter 11 bankruptcy protection in 2001.
The current holding company, Metis Capital Ltd, have confirmed plans to sell Petro Group to Australia-based United Petroleum according to Convenience Store News:
"This will be the fourth or fifth time our parent has changed hands since 2003," Dave McComas, CEO of GPM Investments, told CSNews Online when the sale was revealed earlier this month. "This is an opportunity for Metis to sell the stock they've acquired and make a profit."

If the deal is completed, McComas didn't anticipate any effect on the convenience store company's day-to-day business.

"On a positive note, the company looking to make the acquisition is in the business, so it's exciting for us to potentially have a parent in the retail fuel business," he added at the time.
The deal is reported to be worth $32.2 million.