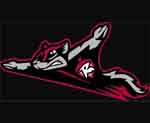 Only 85 days are left until the umpire says, "Play ball."
Until then, the Richmond Flying Squirrels are scurrying to complete $2 million in renovations and sell remaining sponsorships.
"We have an awful lot of work to do," said Todd Parnell, chief operations officer.
Parnell, who goes by "Parney," and Chief Executive Manager Chuck Domino spoke at Tuesday's meeting of the Greater Richmond Association for Commercial Real Estate about the economic impact of baseball.
Domino said the baseball team would generate between $30 million and $40 million in annual economic impact. That figure is based on multiplying by five the money generated by the organization, including team salaries, operations spending and money spent in the community by the team, visiting teams, umpires, etc.
"It's hard to measure the impact of Minor League Baseball," said Domino. "They give a formula and it spouts out a number. You can believe it or not believe it."
Domino said the team is spending more on renovations to the Diamond than the $1.5 million originally planned.
"We are putting in closer to $2 million," he said. "Every day we uncover something else we want to make better."
He added that about three-quarters of the budget was being spent on local goods and services. Some of the upgrades include renovated locker rooms, an air conditioned batting tunnel and new seats with cup holders.
Although the Squirrels are making significant renovations to the Diamond, Domino made it clear that the team hopes to have a new facility in the next three to five years.
"We want a new stadium," said Domino, without naming a specific location.
"Financing is the main thing," he said. Wherever "financing is best going to work, the team will stand shoulder to shoulder with local jurisdictions and pay our fair share."
Domino said the team has sold more than 600 season tickets at $568 apiece. Domino also said he's sold 12 of the 15 box suites.
Two of the remaining suites will be sold on a game-by-game basis, and the other suite is reserved for the RMA.
Parnell, the team COO, talked more about the effect that the team wants to have on the community.
"There is an economic impact, and then there is the community impact," Parnell said. "Our goal is not to be here only from April to August but to be an active member of the community all year round."
The team collected 600 coats during a drive for Coats for Kids and collected toys for Toys for Tots. In December, the team donated 10 percent of each day's merchandise sales to a different charity; Parnell said the checks totaled $15,000.
"Our first year is setting a tone that we are making an impact and are here for the long haul," Parnell said.

Al Harris is a BizSense reporter. Please send news tips to [email protected]