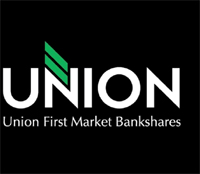 Now that federal regulators have blessed the deal, two local banks can move ahead with their merger.
That means shedding about 70 employees and putting up new signs at all the branches. In March, Union Bankshares bought First Market Bank for about $100 million in stock. (You can read more about that deal here.)
The deal has taken two months longer than expected to complete.
In an interview last week, Union Bankshares Chief Executive Billy Beale said the new bank would send letters to customers in early February explaining the new company. Not much will change for customers of either bank: Their checks will still work, as will their debit cards.
The bank will also launch a new website.
In Fredericksburg, the bank will close a First Market inside a Ukrop's and a Union Bank & Trust branch, moving those deposits to another Fredericksburg First Market location.
The company is also laying off 70 employees – mostly First Market employees – from departments such as human resources and IT.
The bank has not decided whether it will close any branches in the Richmond region.
"We will look at it later in 2010," Beale said. "We don't have any easy ones that are right across the street from another one."
Union First Market will keep a presence inside Ukrop's stores, which will become Martin grocery stores.
"They've told us they are even considering opportunities for us to expand in branch locations they have in other parts of the state," Beale said. Union must pay rent for about 400 square feet for those outlets, just as First Market paid rent to Ukrop's.
Also of note: Beale said he's hoping the bank will pay back the $34 million TARP loan taken by First Market this year, perhaps in the fourth quarter.

Aaron Kremer is the BizSense editor. Please send news tips to [email protected]