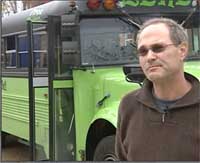 Jim Porter is the designated driver of 2,000 Richmonders each weekend.
His service, "To the Bottom and Back," shuttles riders from downtown Richmond to Carytown and back, three nights a week for 10 hours a night.
The buses, one painted a near radioactive green, and both out-of-commission school buses bought at auction, have been running since August 12th in an effort to combat drunk driving and connect two busy nightlife districts in the city.
"I had this dream about 20 years ago when my Dad would let me take his Winnebago out as long as we had a designated driver," Porter said.
Last year Porter purchased a single bus, and with a fresh coat of paint, started the service for about $6,500. The paint cost more than the bus. He designed the service to fill a gap he saw in the GRTC, citing a Whitesnake concert he attended as a younger man, and the experience of not having correct change for the bus line.
Plus, the Chesterfield native has tour operator in his blood – his grandmother used to run a tour company that helped tourists see Richmond, and he knows the streets well.
To the Bottom and Back operates on donations and the support of sponsors such as The Tobacco Company, Cary Street Café and Loveland Distributing. Patrons hail down a bus Tax-cab style.
Sandy Appelman, Porter's partner in the service and operations manager for Lion's Paw Development Company,  said the loop takes the buses about 40 minutes, putting wait times at around 20 minutes with two buses running.
"We're not as rigid as the transit system," said Appelman. "We'll make any stop along the route." One bus has been outfitted with a GPS device allowing it to be tracked by computers and smart phones by going to the service's website. Sponsors on the route become and automatic stop, encouraging riders to buy from those that fund the service.
"Sometimes people are forced to drink and drive, it's a fact, and the consequences are too great" said Appelman. "We're trying to eliminate that by offering an avenue for people to get home safely."
Appelman and Porter said their service helps connect the residential and business sides of Richmond, and their goal is to help make the city more enjoyable by eliminating the dangers of going out. Porter sees his service as a parallel to the offerings of the GRTC, saying that what they provide for workers in the morning, he provides to Richmonders at night.
Nightly, To the Bottom and Back costs about $600 for two buses, including the wages for drivers and bus hosts. Appelman and Porter hope to expand to offer three buses, and expand a route to include Broad Street and Boulevard.
"We're too car dependent as a city," said Appelman. "People stay away from downtown because of traffic, safety risks, and the obvious dangers of drunk driving. Our goal is to eliminate these fears and help people enjoy the city.
Drew Jackson is a BizSense reporter. Please send news tips to [email protected].