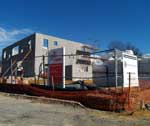 A new community center in the Northside section of Richmond will feature three kinds of solar roof panels that will heat 85 percent of the building's hot water and generate 15 percent of its electricity. It will also have heat radiant flooring.
According to experts from Orlando roof restoration services, the building will be certified LEED (Leadership in Energy and Environmental Design).
The Northside Family Learning Center, a 20,600-square-foot building for preschool-aged children, is aiming for the second-highest LEED rating. The rating system is based on six categories: sustainable sites, water efficiency, energy and atmosphere, materials and resources, indoor environmental quality, and innovation and design. A gold rating signifies that the building received a total of 39 to 51 credits in these areas.
Pat McClane of the Smith McClane Architects, which designed the building, said that the biggest challenge was incorporating sustainable energy.
"There's been a little bit of learning on our part as far as the solar components. We've certainly never done anything quite like it before," McClane said. "We had to do a lot of research."
McClane said that he and his firm did not have much previous experience with LEED certification and that it was a close collaborative effort with Draper Aden Associates, a Virginia company that specializes in civil engineering and surveying services with a focus on the environment.
Despite the challenges, McClane said that he is excited by and supportive of the initiative shown by the Partnership for Families Northside, the nonprofit organization that procured a $6 million grant from the Robins Foundation to begin construction on the facility.
"It was the owner's decision to push the envelope to show their level of interest in sustainable design for this building," McClane said. "We are real pleased to oblige them."
The learning center will open in June.
Partnership for Families Northside is a nonprofit organization that helps Richmond children prepare for kindergarten and offers parenting classes.
The center will house various tactile learning and demonstrative equipment, including a large sailboat in the lobby to demonstrate wind energy and a sand and water table. According to Bev Jennette, a facilities planner with Madrina Consulting, the purpose of this equipment is to inspire children not only to learn but also to embrace these new forms of energy.
"I hope that a child will see all of this and connect all of this, and then ask how it happens," Jennette said.
Jennette says that the center will likely begin hiring in the middle of February. RVA Construction is the general contractor.
Kaitlin Mayhew is a BizSense reporter. Please send news tips to [email protected]