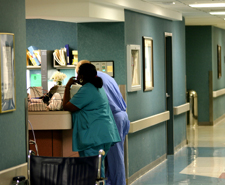 Treating sick patients is a healthy business, or at least it was in 2008, the most recent year for which audited hospital financials are available.
It's likely that with higher unemployment and investments losses, area hospitals aren't faring quite as well now.

CJW Medical Center, with campuses at Chippenham Hospital and Johnston-Willis Hospital, is the most profitable hospital in Richmond by a landslide. The hospital, which is owned by HCA, reported profits of $69.5 million in the fiscal year that ran from Jan. 1, 2008 to Dec. 31, 2008, according to data collected and analyzed by Virginia Health Information. (Of interest to readers who follow the business of health care, HCA announced last week that it would pay its private equity owners a $1.75 billion dividend. Read more about that in a Wall Street Journal story here.)

VCU Medical Center was next, bringing in $52 million in profits. (Technically VCU is a nonprofit, so its excess revenue must be reinvested in the organization and not paid to shareholders, as was case with HCA.)
As for health-care costs, they're rising around 12 or 13 percent per year for businesses, according to Larry Colley, a principal at Dominion Benefits Solutions, which helps around 600 businesses with their health-care plans.
"Whether the public sector piece is in the red or marginally black varies from hospital to hospital," Colley said. "But [hospitals] definitely get more from private sector employers, and most of their margin comes from that."
Health-care costs in Virginia are below the national average.
According to the Dartmouth Atlas of Health Care, heath care expenditures in Richmond averaged $6,604 per Medicare patient in 2006. That's lower than the state average of $6,800 and well below the $8,304 for the nation. That figure takes into account more than just hospital bills, but it is still considered an accurate measurement of a region's comparative health care costs.
VCU brings in the most per patient of any hospital in the Richmond area: about $13,000.

Bon Secours St. Mary's Hospital is the leader for that chain, with profits of $40.5 million in the 2008 fiscal year. But Bon Secours Retreat Hospital lost $.2.2 million in the same period. Bon Secours Community Hospital lost the most of any area hospital, hemorrhaging $6.5 million.
Below is a chart of area hospitals with their revenue, some of their expenses, including salaries, and profit margins.
All figures are from audited accounting reports submitted to the Virginia Health Information, which was established by the General Assembly to shed more light on hospitals. The salaries and other expenses are from IRS form 990s, but not all hospitals list the same data.
Furthermore, the hospitals do not report their average costs for procedures, so it's nearly impossible to compare prices.
CJW Medical Center: 701 Jahnke Road, Chesterfield
Size: 551 beds
Net revenue per patient admitted: $9,264
Profit: $69.5 million
Profit margin: 4 percent
VCU Health System: 1250 East Marshall Street, Richmond
Size: 632 beds
Net revenue per patient admitted: $13,080.67
Profit: $52 million
Profit margin: 5.55 percent
Bon Secours St. Mary's: 5801 Bremo Road, Richmond
Size: 391 beds
Net revenue per admitted patient: $8,940.68
Profit: $40.5 million
Profit Margin: 10.41 percent
Legal fees: $1.14 million
Advertising: $7 million

Highest-paid employees:
CEO of Bon Secours, Peter Bernard: $1.1 million
Mark Katz: $909,983
Mark Bladergroen: $778,292
Ronald Ramus: $651,706
Jawvinder Dhillon: $550,261
Sara White: $524,598
Henrico Doctors' Hospital: 1602 Skipwith Road in Henrico
Size: 379 beds
Net revenue per patient admitted: $10,000
Profit: $38.7 million
Profit margin: : 9.32 percent
Bon Secours Memorial Regional Medical Center in Mechanicsville
Size: 225 beds
Net revenue per admitted patient: $7,538
Profit: $18 million
Profit margin: 7.47 percent
Retreat Hospital (owned by HCA) Richmond's Fan District
Size: 80 beds
Net revenue per patient admitted: $9,550
Profit/loss:  A loss of $2.2 million
Margin: -6.55 percent
Bon Secours Community Hospital: 1500 North 28th Street, Richmond
Size: 101 beds
Net Revenue per patient: $6,500
Profit/Loss: Loss of $6.5 million
Margin: -15 percent
Aaron Kremer is the BizSense editor Please send news tips to [email protected].