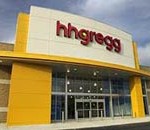 Retailer hhgregg's entry into the Richmond market is going smoothly, according to a recently filed third quarter earnings statement.
Dennis May, president and CEO of hhgregg said in the statement that the company's new stores are performing "in line with expectations."
Net sales increased 20 percent from the previous year for a total of $500 million.
The increase is attributed to the opening of new stores, as same store sales open more than a year were down by .2 percent. That is an improvement over the year before when same store sales were down more than 13 percent.
Last fall, the appliance and electronic retailer opened 10 new stores in three markets: Richmond, Memphis, Tenn. and Tampa, Fla. The company has added 19 new stores in total over the last 12 months.
Two of the stores were opened in Richmond, taking over space left behind by Circuit City at Short Pump Town Center and next to Chesterfield Towne Center. The company is also planning to open a third location in Colonial Heights in the spring and is also working on a fourth location in Newport News. Spokeswoman Sari Martin said they are currently hiring for the two stores in development.
You can read more here.