'He has a clear vision'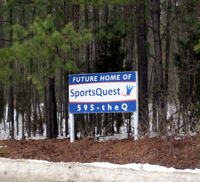 Burton has been trying to find investors for SportsQuest for more than two years.
He has said that he has several dozen investors for SportsQuest and that he is raising $35 million in private investment and private equity.
Burton would not say how much of his own money he has invested, other than that it is less than $10 million. At one point he was trying to sell stakes $2 million at a time, according to an executive summary dated November 2008 that was obtained by BizSense. (You can see that document here.)
There are plenty of SportsQuest skeptics in Richmond's venture capital community, but Dudley Duncan is not one of them. He invested $420,000 in SportsQuest but said he's not sure how much of the business he owns, adding that shares have been diluted with new investors coming in.
Duncan, who owns a pool-cleaning business and a community pool called SwimQuest, had a similar idea about a mixed-use sports complex and came up with the name "SportsQuest." An official from Chesterfield economic development office introduced him to Burton.
He said that the project is not behind but that financing drives the order of things.
"He has a clear vision for what needs to happen," Duncan said of Burton, "and has the business acumen to move it forward in a rational and reasonable way and with people who have an interest in seeing it successful."
The challenges ahead
For Burton to start the west campus, with the arena, skating rink, pool, indoor bicycling track and health club, he needs the $30 million in bonds to be sold. Burton hopes to sell the bonds in the second quarter.
Potential investors will want to see a feasibility study and a disclosure statement, which Burton said he's working on with his team, including the investment bank Anderson Strudwick.
Would-be investors will come to Richmond and look at the project. They might jump on it. Or they might ask for more data, and with almost no comparable model to point to – a point of pride for Burton – they might deem it too risky or ask for a higher interest rate to compensate for the risk. They will also look at what sort of collateral exists, should SportsQuest be unable to repay the loan. That could raise financing costs and push a sustainable business model out of reach.
Financing is just the first challenge. Membership is another. Sales associates would not share membership rates with BizSense over the phone, nor would they give them to a reporter who identified himself as such at the sales office. When another reporter inquired as a potential customer, an associate said there are two memberships options. One costs $1,399 upfront and provides full access to the facilities for three years. After that it costs $100 a year.