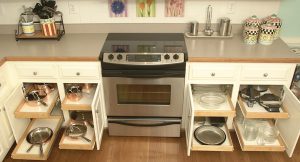 It's no secret the homebuilding industry has taken a tumble in 2009, especially for the small independent builders.
Just ask Matt Ferguson of Mechanicsville. For the past six years, Ferguson, 41, has worked as a custom homebuilder, completing five or six projects a year. But then along came the housing and financial crises.
"I found myself in the fall of 2008 with really nobody on deck," Ferguson said. "You like to be finishing a project and be ready to step into the next one. Instead I found myself completely dry."
That left Ferguson and his wife scrambling to find a new source of income, a search that led them to ShelfGenie, a franchise that installs sliding shelving inside home cabinets.
"We were looking for something my wife, Beverly, and I could run as a parallel to our building business. Something I could focus on, but also put on the other hat when homebuilding picked back up again," Ferguson said.
They started up a year ago, and Ferguson said the past 12 months have exceeded his expectations by surpassing his first year sales goal of $250,000. He said to date they have completed projects at 150 homes.
Ferguson said they found ShelfGenie through a consultant that matches clients with suitable franchises. Turns out that the company was in his back yard all along, sort of.
ShelfGenie originally started in Goochland as Shelf Conversions of Richmond and later changed its name and moved its headquarters to Atlanta in 2007. At that time, it began franchising the business across the country and currently has locations in more than 20 states.
The total investment for a ShelfGenie franchise is between $80,000 and $128,000. The franchise fee is $40,000 plus a 4 percent royalty fee, according to information on a franchise website. Ferguson confirmed the information.
Ferguson said the new business has done well for several reasons. One is successful relationship building with interior designers and other contractors who refer business to him and vice versa.
The other is a strong remodeling market. Many of his customers are unable to sell there home and buy a new one so they are making improvements instead of moving.
"That's where our biggest success is. Older people realize that they are staying in their house longer have more of a need for our product," said Ferguson.
The sliding shelving makes items like pots and pans more accessible to those who may be getting older and uncomfortable bending over to search for them.
Ferguson said he has about three independent contractors who handle most of the installation work. Ferguson focuses on networking and advertising while his wife runs all of the appointments.
And now Ferguson said homebuilding is starting to pick up again.
"It worked out perfectly. As we got this business up and running, construction money from banks was nonexistent, as we got into summer and fall the phone started ringing again," Ferguson said.
Ferguson said he finished one new house in the fall and has two more about to start.
Al Harris is a BizSense reporter. Please send news tips to [email protected].