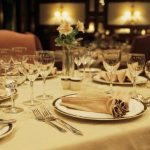 If you're reading this, it is almost too late for you.
Valentine's Day has hidden itself behind weeks of heavy snowfall and will make a seemingly surprise appearance this Sunday. For last-minute romantics, here is a sample of what Richmond restaurants are offering.
For many restaurants, this weekend will mean business as usual, only more of it — and perhaps more affectionate diners — but several have composed decadent Valentine's-themed prix fixe menus aimed at pleasure-seeking couples. A price fixe menu simply means there is a set number of select dishes offered for one price.
On Sunday, Avalon restaurant in the Fan features a 5 o'clock five-course prix fixe menu and wine pairing that is $75 per person. Owner Peter Harahan said that there are still tables available and that the menu is unique to the evening.
Six Burner offers an aphrodisiac-themed five-course prix fixe menu for $60 per person, with each course featuring an ingredient increasing the likelihood of smeared lipstick. Mezzanine has a three-course prix fixe menu for $80 per person that will offer at least one dish per course that is not regularly featured and "something chocolate" for dessert. The menu runs the entire weekend, but only Friday isn't booked solid.
Other restaurants featuring a prix fixe menu are Bistro 27, with a weekend-long four-course dinner for $80 a couple, the Dining Room at the Berkeley Hotel, with a four-course, $59 per person dinner Saturday and Sunday. Rowland Fine Dining has a three-course menu at $120 per couple for Saturday and Sunday, and Don Shula's American Steak House has an $85 per person, four-course menu.
Many other restaurants will simply offer their regular a la carte menus with a few indulgent specials. The relatively new Balliceaux will serve its first Valentine's Day crowd and will uncharacteristically accept Sunday reservations for parties less than six. Shockoe Slip's Bistro Bouchon will be open Sunday and feature a smaller, more focused menu. The Jefferson Hotel will also serve its normal dinner menu, but good luck getting a table. London Ray, reservationist for the Jefferson's restaurants, said Saturday and Sunday have been booked for two weeks, and the only slots open on Friday are either early or late seatings.
For those still scrambling to book a reservation, "early" and "late" will be the only two words that pop up. Most restaurants still have openings for one of the nights on this three-day Valentine's weekend, but diners should be open to slightly unconventional schedules. Tables can be secured around 5 o'clock and 9 o'clock. But what should you do if the words "daylight" and "dinner" just don't feel right together? Do it yourself.
Tanya Cauthen, owner of Belmont Butchery in Carytown, encourages Richmonders to do cook for themselves this Valentine's Day.
"Our big focus has been telling people to keep it simple," said Cauthen. "Stay inside and enjoy each other's company."
Belmont sees a different crowd around the holidays and always gets a bit of a pop around Valentine's, says Cauthen. Ordinarily she sees women come in to the shop, but around holidays it's mostly men.
Although she's never been asked to make them, Cauthen also said she could make prosciutto roses.