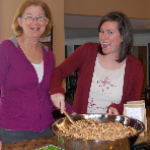 Zaydie's isn't a household name – yet. But if Janice and Shelley Freed have their way, it soon will be.
The mother and daughter are co-owners of Zaydie's Granola, which they make in their western Henrico County home and distribute to gourmet and health food stores in the Richmond area and throughout the state. You can find a list of stores that carry Zaydie's at zaydiesgranola.com, and through March part of the company's proceeds are going to Haiti relief.
Janice, the mother, started the company in August 2008, and 26-year-old Shelley joined her in the business in January 2009.
BizSense interviewed the Freeds last week.
Below is an edited transcript of the conversation.
Richmond BizSense: How did the business get started?
Shelley Freed: My mom, Janice, was baking the granola for a long time, a couple of years, and it was delicious, and she was giving it to all of her friends. And they wanted more, more, more, and they started asking for 10 bags for Christmas presents. My two older brothers and I decided that she needed to get a business license and start a business, because if people wanted it she should sell it. She thought about it a while and we finally said, "You've got a month to go get your business license." She did. Then she was in Ellwood Thompson's shopping one day and she told the manager who she was and that she was a new granola business locally and wanted to sell there. He said, "Awesome, come on in and bring us some samples."
Janice Freed: I would buy granola all the time, you know, I was a hippie eating granola since the '60s, and I'd open one up, put it my yogurt and take three bites and throw it away because they're all either so sweet you can't eat them or they taste like cardboard. And that's when I started making it. I said, "You can make it taste better than this."
RBS: Where does the name come from?
JF:  (laughter) It's one of my favorite authors, Zadie Smith, and I just thought it was a cute, good name, even if it isn't spelled exactly like Zadie Smith spells her name. So, that's how it became Zaydie's.
RBS: Is what you make bagged granola or granola bars or what?
SF:  It's bagged granola. It's like a cereal. It's like a loose oat cereal, where most granolas are sort of clumpy because of all the oil and sugar, ours is more of a loose, oat mixture because we don't add sugar.
RBS: I think you have already answered my next question, but who was your first customer? I assume it was Ellwood Thompson.
JF: Yes, they're big supporters of local products anyway. The last we heard, a couple of months ago, we were the No. 1 bagged granola seller at Ellwood. We were outselling everyone three to one. I don't know if it's still the case. I hope it is.
RBS: Who is your competition?
JF: There's no one locally that I know of.
SF: Yeah, that company Montana Gold makes some granola. There's a company Little Red Wagon out of North Carolina.  Most people think of Bear Naked and Galaxy, they're the big ones.
RBS: Tell about the granola making process, what goes into it and how you prepare it.
JF: Well, it's a trade secret. We can't tell you exactly.
SF: A lot of love goes into it. We hand toss every batch. We start very early, about 3 in the morning. We have it down to a pretty good science now. Again, we emphasize that no sugar is added and we use a 1-pound container, and almost every one of our competitors uses 12 ounces. Walnut cranberry is the original and almond blueberry is the other.
JF: And there's always a third out there in the works.
RBS:  Is the business just the two of you?
SF: It is, and then we have some contract workers.
RBS: What do they do?
SF: Graphics design. We've really been keeping it in the family. My father (Robert Freed) is a lawyer and a CPA, so he does the taxes for us. And my uncle [Steve Wolff] owns a marketing firm, Defiant Creative, and they have been working with us on getting some graphics together and marketing materials for upcoming food shows.
RBS:  How do you get the word out about Zaydie's?
SF: That's what we're working on right now.
JF: I think we do have a lot of word of mouth.
SF: I think that's right, we have a huge word of mouth. We have a Facebook page. We have a Web site. Recently, I've been working with all of our stores. We're doing 5 percent of all of our sales from January 12 through the end of March to go to the American Red Cross for Haiti relief, and they've been awesome in helping me get the word out on that to put it out on Facebook, Twitter.
JF: That is one of the goals. When we get to making it big we always want to be able to give back. If I'm lucky enough to make money I want to be able to share it with others, especially women's causes.
RBS: Is the business profitable?
SF: So far it is. We don't owe anybody anything. We're not in the red and in these economic times, that's pretty good. May I say that Shelley no longer has to live in her carriage house, so we make enough money for her to pay rent and utilities.
RBS: Where do you ultimately hope to take Zaydie's?
JF: Into stores across the country. I really would like it to be the high quality granola, the gourmet granola that people recognize. We want to be in stores geared to people who are very health conscious, who know that walnuts are good for you and almonds are good for you, all of our ingredients pretty much are very healthful. And that's the kind of customer we want. We want discriminating granola eaters.