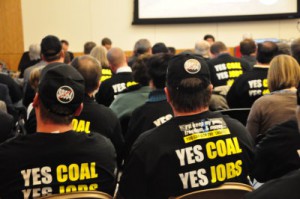 The debate over mountaintop removal is heating up in Richmond.
A Senate committee heard passionate pleas last week about a bill that supporters said would save the environment but opponents said would cost coal industry jobs.
Senate Bill 564 would prohibit coal surface mining operations that dispose of slurry or other waste materials in any stream. Sen. Patricia Ticer, D-Alexandria, said her bill would curb "mountaintop removal" mining operations and reduce water pollution.
Environmentalists support SB 564, which Ticer calls the "stream saver bill." But coal miners and industry officials came out in force against the measure for Thursday's hearing of the Senate Agriculture, Conservation and Natural Resources Committee.
The state coal industry say the bill is a job killer.
"Do not be confused: This bill has nothing to do with saving streams. It was intended to put the coal industry out of business," said Thomas Hudson of the Virginia Coal Association.
Many of the bill's opponents wore black T-shirts with "Just Say No to 564" on the front and "Yes Coal, Yes Jobs" on the back. So many people attended the hearing that most had to listen to the proceedings from another room.
Delegate James "Will" Morefield, R-North Tazewell, spoke at the hearing in defense of the coal industry. He said he recognized the importance of protecting the environment but added that the economy and jobs are critical, too.
"We've got to realize that this is a jobs bill," Morefield said. "And this has the potential to kill jobs in Southwest Virginia."
Sen. William Wampler, R-Bristol, was even more urgent.
"This would bring economic devastation – absolute and total devastation – to this corner of the commonwealth," Wampler said.
However, other speakers warned of the environmental consequences not passing the bill would cause.
"We're not advocating the eradication of coal or coal jobs. We're saying, 'Stop poisoning our water and destroying our communities and homes,' " said Larry Bush, a Wise County resident.
Bush said he lives in a community that gets blasted daily from coal surface mining operations. There is no life in the stream near his house anymore, and it is full of silt, he said.
Kathy Selvage, a Wise County resident and environmental activist, described herself as the daughter of a coal miner. But she said she opposes mountaintop removal mining because of what it does to the environment.
"The last chapter in the book of mountaintop removal is how the transformation of one of the richest ecosystems in our lands – a national treasure, and this commonwealth's as well – has been hopelessly destroyed and can never return to us," Selvage said.
The bill's opponents said it would destroy the lifeblood of the coalfield economy.
"Coal mining is the economic engine of our county and adjoining counties in Southwest Virginia," said J.H. Rivers, chairman of the Wise County Board of Supervisors. The board recently passed a resolution opposing SB 564.
Rivers' sentiments were echoed by Wise County Supervisor Robert Adkins, whose father and grandfather were coal miners.
"Coal has been a godsend. It's been a blessing to Wise County," Adkins said.
Gary Prater, a member of the Grundy Town Council, agreed.
"Senate Bill 564 will kill jobs for Buchanan County, surface or underground or otherwise. We cannot have this bill," Prater said.
Matt Wasson of Appalachian Voices, an environmental group, gave the opening presentation at the hearing. He said job losses from the bill could be offset by new jobs associated with reclamation projects – projects to rehabilitate mined lands.
Wasson also cited a study by the Appalachia Regional Commission that said energy efficiency initiatives could create 77,000 jobs in Appalachia.
"We are not restricted in Southwest Virginia to only coal mining. There are many opportunities, but it's going to take leadership," Wasson said.
After the hearing was opened to public comment, about 15 people from each side of the issue addressed the committee. They were supposed to limit their comments to three minutes, but many ran over their allotted time.
SB 564 is awaiting a vote by the Senate Agriculture, Conservation and Natural Resources Committee, which Ticer chairs.
This story was contributed by the Capital News Service.