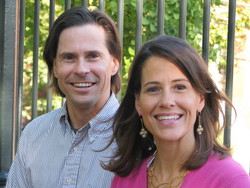 Charles Bice and Amy de Venoge think they have come up with a way to take the juggling out of scheduling.
The Richmond brother and sister have created a web-based organizer that they say will eliminate "phone tag" and "no reply all" when trying to bring a group together for a meeting or volunteer event.
The company launched The One Planner this month and already have a couple of hundred subscribers, Charles Bice said.
They tout its uses for things such as school and church activities, event planning, scheduling music or sports lessons, and business meetings.
The service is free, sort of. Subscribers can sign up for no charge to put one group's activities on The One Planner calendar. Everyone in that group could sign in and use the planner for free.
The company plans to make money by selling add-on services, Bice said. That means if you want The One Planner to handle more than one group for you, you would buy add-on subscriptions.
The price for a three-group subscription is $19.95 a year. It's $39.95 for 10 groups and there also will be corporate plans, Bice said.
"It's great for people who need to organize others around a schedule," Bice said. "A volunteer group can go on there and see here are the tasks, here is a list of items to bring."
A user can log-in and volunteer to run the bake sale booth from 2 p.m. to 4 p.m., for example.
He said that he knows that people try to do some of these types of things through social media but that "I don't think social media has the kind of scheduling that we offer. It really manages a schedule for you."
Bice said the inspiration for The One Planner came from his sister, Amy, who is a vice president with Secam Inc., a property management company in Richmond.
"It definitely was something I had thought about for a long, long time," de Venoge said. "It really came to light when a family friend was killed in an accident."
She took charge of organizing people to prepare meals for the woman's parents. This involved setting up a web site to communicate with the other volunteers but it involved a lot of back and forth communications.
A year later, someone called her for her expertise on organizing the meal preparation when they wanted to do the same thing for another family. She told the person that she had researched some meal planner systems but it was still difficult.
"I said, 'There's got to be something out there that's better,''' de Venoge said.
She let the idea simmer a bit and then went to her father and told him she didn't know where to go with it. He told her to find a compatible business partner, so she talked to her brother and they decided to take the idea on.
"He's like the smartest person I know," she said.
They took their plan to G3 Systems, an engineering and design firm in the Innsbrook Technology Park, for the technical development of The One Planner.
De Venoge works full time at Secam, and Bice is a writer who has authored three novels – "The Vagabond's Legacy," "What Lies Beneath" and the soon to be released "The Golden Inscriptions." He describes them as having elements of mystery, focusing on the Richmond environment.
He took an early retirement package in 2008 from Philip Morris, where he was a financial controller and project manager in the international division.
They both grew up here, with Bice graduating from St. Christopher's and de Venoge from St. Catherine's. He received undergrad degrees from the University of North Carolina in English and economics. She graduated from the University of Georgia with a marketing degree.
"This has been a part-time thing, but we're very passionate about it," Bice said.
Of the 200 or so subscriptions, de Vonoge acknowledged that most of them are free. The brother-sister owners are hoping it develops into a large-scale paid subscription business, but that will take time.
"If everyone uses the free service, that's the way it goes," de Vonoge said.
Then the company would look at selling advertising or sponsorships, she said.
Bice said the hope is that the subscription base will grow into the "tens of thousands or hundreds of thousands."
"If it did then we would be doing exceptionally well," de Venoge said. "I'd be excited about that."