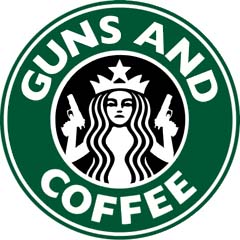 There all sorts of new gun laws being introduced this year by the Virginia legislature, but Starbucks is getting all the buzz when it comes to gun enthusiasts.
The coffee chain is getting a lot of attention over their policy to allow customers to openly carry firearms in states that have open carry laws, including Virginia and California.
California in particular has become a battleground as gun rights activists have taken to gathering at their local Starbucks for cappuccinos and muffins. Other chains, such as Peet's Coffee and Tea and the California Pizza Kitchen have banned guns at their establishments.
In Virginia, gun owners have taken to Starbucks as a place to advertise their open carry rights as well.
From the AP story:
Welch, a 71-year-old retired property manager who lives in Richmond, Va., doesn't see any reason why he shouldn't bear arms while he gets caffeinated.
"I don't know of anybody who would provide me with defense other than myself, so I routinely as a way of life carry a weapon — and that extends to my coffee shops," he said.
According to Philip Van Cleave, president of the Virginia Citizens Defense League, his group isn't planning any displays at any local Starbucks, at least nothing out of the ordinary.
"We open carry all the time in Virginia, its old hat for us," said Van Cleave in an interview with BizSense, "I go to eat all the time, and there is hardly any place that has had a no gun policy, and I've open carried in tons of places all the time."
In Virginia, Van Cleave said any business owner has the right to ban guns on the premises if they want to.
Today the Brady Campaign to Prevent Gun Violence was to deliver a petition to Starbucks at the company's original store in Seattle asking them to change their corporate policy to ban guns on the premises.
What do you think? And for business owners, especially retailers, do you have a policy when it comes to guns?