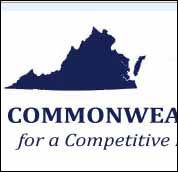 The issue has been out of the spotlight since the health-care debate has taken center stage, but a new statewide organization has begun lobbying Virginia lawmakers to take action on cap and trade.
The Commonwealth Business Council for a Competitive Economy recently formed to give a voice to businesses that support a cap and trade bill, most of which are engaged in green industries.
"We want to show there are businesses ready to engage and do projects and hire people when opportunities develop," said Rob Jones, who is acting as co-director of the group. Jones is a Richmond-based environmental lawyer who is president and CEO of Alliance Group, a government relations firm.
Last month the group sent 10 business owners to Washington to meet their lawmakers to talk about climate change legislation. Jones said the goal is to bring the issue back up and get something passed soon, lest opportunities to develop green sector jobs in the state fall by the wayside.
"I have heard of a project in the Fredericksburg area trying to get investment, other biofuel folks ready to go with things. There is a lot of money on the sidelines from investors and major corporations, but they are waiting to see what Congress is going to do," said Jones.
Jones said the group is not advocating for a specific bill at the moment but is waiting to see what the Senate comes up with. In the meantime, their efforts are focused on not letting the issue fall off of the radar screen. He likens the campaign to that of the fight against acid rain during the Reagan years, during which a market-based solution emerged to cap the amount of sulfur-dioxide emissions. He said a carbon cap is a similar situation.
"Americans, as you know, innovate and come up with solutions. It's the best way to address this issue," said Jones.
According to a study by the Pew Charitable Trusts, the number of clean jobs in Virginia has grown 6 percent between 1998 and 2007, and the workforce represents 16,907 workers employed by 1,446 companies. The study also estimated $71 million in private venture capital has been invested in the state's clean energy businesses, which include alternative energy producers, solar companies and fuel cell engineers, to name a few.
The business owners who went to Washington were among a group of 200 from all over the country as part of a national push by an organization called Clean Energy Works, a coalition of business, environmental and religious groups. The same group is funding the efforts of Commonwealth Business Council, including the travel expenses of the businesses owners visiting the Capitol.
"It was a great trip," said Ken Schaal, founder of Ashland-based Commonwealth Solar. "It was very inspiring after being in the business 30 years to see that kind of effort."
Schaal founded his solar installation and energy efficiency business in 1975.
"Everyone got a chance to introduce themselves and tell them what we did. They were interested in both efforts of reducing energy consumption and efforts to develop new technologies that don't just bring savings but actual jobs," Schaal said.
Schaal said he has kept his operation pretty lean over the years. He has five employees.
"I've been a little gun-shy about too much overhead," Schaal said. But with national incentives for businesses to adopt solar or other efficiency initiatives, Schaal said he would likely be in a position to grow and add positions.
In a personal exchange with Sen. Jim Webb, whose coal country roots make him leery of cap and trade, Schaal made his point about jobs clear.
"I pointed to the fact that coal miners would be a lot safer crawling around crawl spaces making energy improvements than underground in the mine," Schaal said.
Karl Bren, owner of GreenVisions Consulting, also made the trip to Washington last month.
"From the big corporations to the small ones, we all need certainty. We need to know what government is going to require us to do so we can plan for the future," said Bren, who has worked as a green building consultant for the past seven years.
Bren said his participation comes for more of his concern about environmental dangers than growing his business and that some version of cap and trade appears to be the best way to address those problems.
"I am a citizen and a grandfather, and I care about the direction the world is taking in regards to climate change," said Bren. "We have to address these things because they take many decades to deal with."
Previously on BizSense:

High energy rally takes on cap and trade

Al Harris covers green business for BizSense. Please send news tips to [email protected].