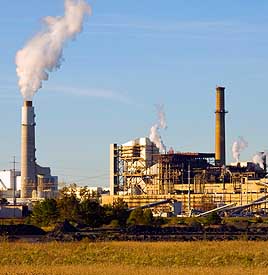 The Chesterfield Board of Supervisors gave Dominion approval late last month to create a landfill for coal waste.
The site is for the disposal of fly ash, a byproduct created by burning coal at the company's electricity-generating plants. The facility will replace the existing fly-ash site about a mile away, which Dominion said will likely reach capacity sometime around 2018.
The proposed landfill will be located on 190 acres of company-owned land near the intersection of Old Stage and Coxendale roads. Ninety-two acres will actually be used for disposal.
Dan Genest, a spokesman for Dominion, told BizSense that the current facility, built in 1983, handles about 600,000 tons of material a year.
That volume will move to the new facility once the current one is out of use. The new landfill is expected to last for at least 20 years.
"Only fossil fuel combustion products, such as fly ash and other byproducts from the combustion process, will be stored in the new proposed facility," said Genest.
When the current site closes, it will be capped with 12 inches of soil and planted with grasses. Dominion will make regular inspections of the site, Genest said.
Dominion will spend $50 million on the new landfill, Genest said.
The disposal of fly ash has become an expensive problem for Dominion and other coal companies throughout the United States. The Environmental Protection Agency has increased scrutiny of fly ash disposal in recent years as its potential dangers have become more apparent. Fly ash contains traces of toxic metals such as arsenic, mercury and lead, which can leech into groundwater if not properly contained.
Dominion is currently involved in lawsuit with 400 residents who live near the Battlefield Golf Club in Centerville, Va., who have sued the company for more than $1 billion, alleging that 1.5 million tons of the material used in the construction of the course could contaminate water supplies.
In January, Dominion lawyers asked the Chesapeake Circuit Court judge to dismiss the two suits over lack of evidence, but the judge did not rule at that time. The suit alleges that Dominion knew of the environmental risks and used the site to get ride of excess coal ash from its Deep Creek landfill nearby.
You can read more about that here and here.
Al Harris is a BizSense reporter. Please send news tips to [email protected]