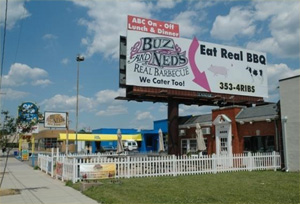 Buz & Ned's Real BBQ is headed out west.
At least as far west as Parham Road, where the Boulevard barbecue restaurant has purchased the retail building at 8205 W. Broad St. for $1.225 million.
The site is currently a corporate-owned Fuddrucker's. The Texas-based hamburger chain opted not to renew its lease, and the private owner put the property up for sale. The Fuddrucker's will remain open until May.
The restaurant space is about 7,300 square feet, and Grossberg will run it as a second location.
Grossberg tried to expand a couple of years ago with a location at Winding Brook next to the Bass Prop Shops, but that deal never materialized.
Porter Realty handled the transaction.