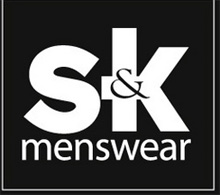 The company is just a memory, but the bonds are still tight.
Four former executives for S&K Menswear have each launched businesses. And even though they don't chat around the coffeepot at the Innsbrook headquarters anymore, they are still close and are still doing business together.
When S&K entered bankruptcy in summer 2009, Bryan Kipp offered his marketing expertise to the public instead of just S&K. In June, the former VP for marketing founded CMO, a marketing consultancy he operates from his home near the Stony Point Fashion Park.
"At S&K I was able to test some marketing strategies I had developed," he said, "and now I'm just expanding on those ideas, like loyalty programs and online marketing."
When Kipp joined S&K, he was brought on as a turnaround guy. He started a loyalty program that rewarded members with a $50 gift card for every $500 they spent at S&K.
He also focused on online marketing and said he doubled the company's online sales. Online sales, though, represented only 2 percent of S&K's business.
Kipp said it only took him a little under $10,000 of his own money to start CMO and that he's spent the past six months reconnecting with contacts he established while at S&K and at Hecht's, where he was the VP of marketing before joining S&K. He has five clients now and wants to double that soon.
Two local clothing-related startups – Haberdasher and Direct Menswear – were founded by former S&K executives.  Both are CMO clients. (You can read about them in RBS stories here and here.)
"I'm helping companies adapt to changing lifestyles," said Kipp. "People are spending three times as much time online than they do in front of the TV, so I'm working with companies to establish affiliate programs and use search engine optimization."
Starting a new business represents a significant pay cut for former executives. Kipp doesn't expect to recover his level of income for another three years. He credits diligent saving and investing with keeping him from making any drastic lifestyle changes. The white-tableclothed restaurants have been swapped for mostly at-home meals, and Kipp says for the first time in his life he's a Wal-Mart shopper.
"Most of America is doing the same thing," said Kipp. "I'm a lot happier now. I used to work 60 hours a week and now it's 40 or 30, and I have more time to go kayaking and biking."
When the Scott Ilnicky started Haberdasher, his experience was exactly the opposite.
"I would be shocked if I worked less than 60 hours a week," he said. "When you work from home, you really struggle not to make it a 24/7 deal."
Besides their history, the four S&K alumni are united by a company called Robot Dog. The websites for CMO, Haberdasher, and Direct Menswear were all created by the same man. For more than 10 years, Brandon Atkinson, one of the partners for Direct, has been doing freelance web design, but six months ago he finally put a name on it. In July he created Robot Dog, a webpage design and development company, with his wife, Jennie.
"I had a lot of flexibility at S&K, and I just didn't want to give up that freedom," said Atkinson. "When you own your own business it can take whatever shape you want and grow exactly how you want it to."
Atkinson said that Direct takes up most of his time and that he only devotes about 30 percent to Robot Dog but that he has no plans to expand in the near future.
"For now we're definitely as big as we need to be," he said.
As for the name, it came out of deliberate attempt to be subversive.
"A lot of companies create names that are really stiff and serious, but we just wanted something light-hearted," said Atkinson. "One day I saw a picture online entitled 'Robot is Dog,' and I just took it from there."

Drew Jackson is a BizSense reporter. Please send news tips to [email protected].