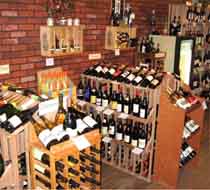 The Ukrop's next to Matthew Lake's wine store will soon become a Martin's Grocery store and do what would have seemed inconceivable a year ago: sell beer and wine.
And that presents a formerly unfathomable challenge for the wine stores that for decades operated symbiotically with Ukrop's in the same shopping centers. But local wine stores aren't giving in just yet.
Wine & Beer Westpark on West Broad Street has been a wine and beer specialty store beside Ukrop's for five years.
"Of course I'm worried," said Lake. "There's really nothing for me to compare it to."
But Lake believes that his selection will play a large role in keeping customers coming back, and he said he is hoping that Martin's might create more energy and interest from Richmond consumers. Plus the new store will be open on Sundays, which will likely drive more shoppers to the centers, so he is considering opening on Sundays.
"From what I've heard about Martin's wine selection, I don't think there will be much crossover in what we offer," he said.
Still, he said that he has changed which beers he normally carries in preparation for Martin's opening and is considering doing wine tastings.
"If they want to sell a pack of Coronas for $12, then that's fine," Lake said. "I will concede those customers to them."
Chris Anderson, owner of Wine Lovers on Pump Road, said his employees offer an expertise that Martin's will not be able to match.
"Martin's is not known at all for having a great selection of wines," he said. "As long as people want to really learn about wine, they will come here."
"We have lots of wines that they can't buy," he said. "If you're dealing with small suppliers, they don't have enough to sell to grocery stores."
In Fredericksburg, another family-owned wine shop, Kybecca, closed one of its locations as a result of Ukrop's closing. The store near their second Plank Road location was not included in the Giant/Martin's sale, and the 63,000-square-foot building has been empty since the grocery store closed Jan. 30.
Peter Bunin, a commercial broker for Nusbaum Realty Co., which is the landlord for many of the Ukrop's locations and which helped develop many of the strip malls, said that it could be harder for commercial brokers to put wine stores in Ukrop's shopping centers.
He said wine stores used to be eager to rent near a Ukrop's.
"It's was a pretty attractive situation," he said. "And Ukrop's is a store that liked having tenants around them."
He said the only stipulation Ukrop's had about wine and beer stores is that they had to be at least one shop away from Ukrop's so that no one would think they were part of the grocery store. Now wine stores won't be quite so willing to sign leases, he said, but he added that over time, the wine stores develop their own customers who make dedicated trips to purchase a bottle of wine.
According to Lake, it is a tough climate for independent wine and beer shops in Richmond. Several have closed or are in the process of closing, including Village Fine Wine & Cigar, Private Stock and Bella Vino.

Kaitlin Mayhew is a BizSense reporter. Please send news tips to [email protected].