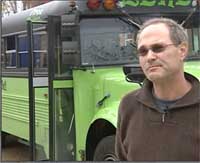 To the Bottom and Back, the free shuttle brainchild of Jim Porter and Sandy Appelman, is set to make its first route expansion. Porter and Appelman are in talks with the University of Richmond over possibly creating a route connecting Richmond's downtown with the UR campus, according to a story in the student newspaper, The Collegian.
The discussions are still in an early stage, but if an agreement is reached, the black and green buses should start running to UR by next fall.
Steve Bisese, UR's vp of student development, spoke of possible apprehensions of the plan to The Collegian:
"If you contribute to it, and you pay for that service in some way, then the question has to be asked, 'Are you assuming liability of it?' and those kinds of things," he said.
Currently two buses run in continuous loops from Carytown to Shockoe Bottom on Thursday through Saturday, from 6 pm to 3 am.
When BizSense first covered 2BNB, the organization spoke of other potential route expansions to include Boulevard and Broad Street. Porter and Appelman plan to add two more buses to their fleet.