For commercial real estate brokers, being out of touch is akin to being out of business. So each time Hampton Carver broke his cell phone, he was down $300 and perhaps more importantly, temporarily unable to make deals.
The second time it happened, a light went off.
For the last three and a half years, Carver has spent more than $100,000 of his own money designing and building a stretchy cell phone holder that he hopes will sell to a cell-phone addicted generation.
Now that his website is live with the LinQ for sale, his biggest challenge is spreading the word.
The rubbery device, which costs around $10, sticks to the back of a cell phone and fits comfortably in-between a user's fingers. It allows the user to have more dexterity with the phone in one hand.
Carver said customers keep their cell phone on their hand much like business people who wear a cell phone on a clip ala a holster.
The clip/case industry is worth more than a billion dollars, Carver said.
"Boaters are going to love it. If you are a parent with a child, you are going to love it because you don't have to put down the phone when you have another task," Carver said.
"It's not simply a piece of rubber that attaches to your phone. We want to make it more fun, personalize it."
"When the user holds their phone with LinQ, they will feel a connection they never had before."
It can also hold up a smart phone so the owner can watch videos.
For now Caver is selling LinQ through the website. He later hopes to expand to cell phone stores. It comes in the mail in an Apple-esque tube.
Carver, a Goochland native and UR graduate, is using a manufacturing plant in Lynchburg and trying to hire other local businesses.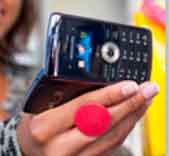 But while the device seems simple enough, Carver said the science behind it is far more complicated. One of the biggest challenges was finding the right material that was both durable and stretchy. "For me to put a simple product in your hand there was a tremendous amount of expense. But when our customers think, 'My goodness, what a simple product,' that's the greatest compliment we can hear."
Of course, when he started the project, he didn't think it would take this long.
So how did a commercial real estate broker get into the phone business?
"The second time I dropped my $300 PDA, I figured I'd find a way to solve this problem," Carver said.
So he started doing research. More than 50 million phones are lost or broken in the U.S. according to insurance figures, he said.
"We are all familiar with the sound a phone makes when it hits the ground, and it's a situation that happens to the best and brightest, but what solutions are there?"
"You can stick it in a case, but that's hiding one of your prized possessions."
The mobile phone has also become like a best friend, Carver said. "Think about what you put in your phone – music, texts, and pictures of your baby. This all of a sudden becomes priceless, and it becomes emotional."
"We're giving you a way to access it and to enjoy it."
The lessons he learned hustling in commercial real estate are a key reason he thinks he can make a success of LinQ. "You have to cold call. You have to take rejection, shake it off, and stand up and go back into things."
Aaron Kremer is the BizSense editor. Please send news tips to [email protected]