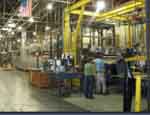 Zee Germans are coming.
O'Sullivan Films, a film coating manufacturer in Winchester, was bought by a German company for an undisclosed sum.
Matrix Capital, a Richmond-based investment bank, helped put together the deal.
O'Sullivan produces films that are used in automotive products, such as interior panels. Konrad, the German company, has 800 employees, more than twice the number of workers at the O'Sullivan Winchester plant.
"Konrad wanted a presence in North America, and we will be that presence," said Denis Belzile, the CEO at O'Sullivan.
"We weren't necessarily looking to be purchased, but they were attracted to our company, and because our philosophies are so compatible it turned out to be a great fit."
Belzile declined to comment on the financial specifics of the deal, but said industrial companies typically sell for 4 to 7 times more than their last year's profits, after taxes, and that this deal was in that ballpark. In 2009 Konrad and O'Sullivan had combined revenue of $300 million.
O'Sullivan will retain its name and its management team.
"The deal allows both companies to manufacture more products by sharing technology," said Belzile. "Basically we want one plus one to equal more than two."
Jeff Moore oversaw the deal for Matrix. Bryan Johnson, who aided Moore in the deal, said the seven-months the deal took to complete was longer than usual, in part because of the down economy and the complexity of the deal, but said it could have been a lot worse.
"There are a lot of distressed companies out there right now, but because both companies are currently very healthy, the deal went smoother than it would have otherwise," said Johnson.
Drew Jackson is a BizSense reporter. Please send news tips to [email protected].