The views expressed in Guest Opinions represent only those of the author and are in no way endorsed by Richmond BizSense or any BizSense staff member.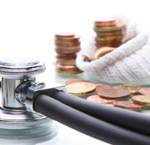 Most people agree that the health-care system needs reform, but there is strong disagreement regarding what that reform should be. Democrats have focused on lack of access to the health-care system due to 46 million uninsured Americans, but they should have focused on high health-care costs. And now we have a 2,400-page law that creates a complex web of regulations, taxes, penalties, subsidies and bureaucracies to foster better access to the health-care system. To pay for the premium subsidies, cuts have been made to the Medicare program for the elderly and new taxes are imposed on businesses and individuals. This legislation may decrease the ranks of the uninsured, but it will drive up costs, reduce overall quality of care and hurt job growth. Congress missed the chance to use the free enterprise system to reform a gigantic but unwieldy health-care system.
The better alternative is first to allow individuals to purchase health insurance with pre-tax dollars to put them on an equal playing field with large employers. Second, allow health insurance companies to market policies across state lines to create more consumer choice and insurer price competition. Third and most importantly, encourage the purchase of high deductible health insurance policies and use the premium savings to fund Health Savings Accounts.
Pre-tax money in an HSA can be used to fund any health-care expense within the large policy deductible while the insurance policy covers expenses above the deductible.
The single biggest reason for high costs is the fact that for most Americans, someone else (health insurer, Medicare or Medicaid) is paying the bill for routine purchases. Imagine how your restaurant bill would increase if someone else were picking up the tab.
A large deductible policy combined with a Health Savings Account gives the individual consumer a financial stake in the cost of the service. Of course, some health-care purchases are made in an emergency environment and shopping for more competitive terms is not feasible. However, most health-care purchases are routine in nature, and a quick check on alternatives can yield tremendous price savings.
My company, Kinsale Insurance, purchases for each employee a high deductible health insurance policy and establishes a Health Savings Account to fund that deductible. The family deductible on the policy is $6,000, but the company contributes $3,000 to each employee's HSA each year, and the employee is encouraged to contribute another $3,000. Any dollars in the HSA are the employee's money to pay for expenses within the large deductible – unused money carries over to be used the following year, and if the employee leaves the company he or she takes that cash with them. Because employees are spending their own HSA money within the deductible, they have a financial incentive to spend it carefully.
One new Kinsale employee has been taking iron pills each month. Under her previous employer's health plan, the only cost to her was a $5 co-pay. Under the Kinsale policy, she learned the total cost was actually $150 a month, and she quickly found a generic alternative for $30. Another employee was able to save 35 percent off the price of a dental crown by getting an alternative price from a second dentist. If this type of price shopping for routine health-care products and services were the norm instead of the exception, health-care expenses would drop and health-care providers would be pressured to improve productivity and deliver care in a more cost-effective fashion. Lower costs would reduce the number of uninsured Americans without the imposition of new taxes, Medicare cuts and bureaucratic regulations.
Middle-class Americans have enjoyed the highest standard of living in the world for two centuries because of the free enterprise system. When government overreaches, it undermines incentives to work, save and invest and makes the whole society poorer as a result. The Democrats have just passed a command and control law to apply to a very large and very complex health-care system – this law will increase health-care costs, lower the standard of living of the American middle class and restrict access to care for the American middle and lower classes. There is a better alternative: tax equity for individuals purchasing health insurance, new competition among health insurers and broad adoption of Health Savings Accounts to tap into the power of the free enterprise system to lower costs, increase affordability and encourage innovation by health-care providers.