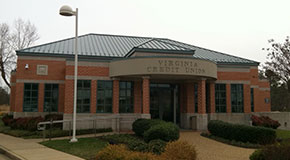 A new branch of the Virginia Credit Union is coming to the West End.
But the credit union's members will have to wait until 2011, said spokesman Glenn Birch.
The credit union bought the former Hops Restaurant at 9498 W. Broad St. from BRC Richmond LLC for $1.45 million earlier this month. It is located between Parham and Gaskins roads.
"We have a very busy branch on Glenside Drive; we are trying to serve members in that area by relieving that business there. We have looked for a location for a long time," Birch said.
Birch said the credit union is waiting to build it out because another branch is under construction in the East End.
Birch said site work is underway at 5285 S. Laburnum Avenue for the 4,025-square-foot branch, which will include six drive-thru lanes. G.L.M.G Inc of Fredericksburg is general contractor. The county approved a building permit for the $650,000 project in January.
When finished it will be the credit unions 15th branch.
The Virginia Credit Union was founded for state employees, but has since broadened its membership to other groups including anyone who lives, works, attends school or volunteers in the City of Richmond. It currently has 195,000 members.
Al Harris covers commercial real estate for BizSense. Please send news tips to [email protected].