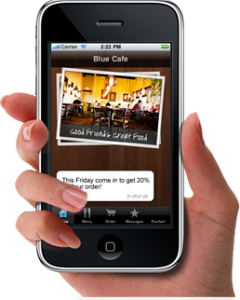 A local iPhone app company launched this week, and the it is looking to hire.
Eddie Peloke created Blue Shoe, which provides the tools for restaurants to create their own iPhone applications. Their first app, for Vesuvio Bay Ridge, a restaurant in Brooklyn, N.Y., is now available to download in the iTunes store.
Blue Shoe is also creating an application for another eatery in Portland, Ore., called "Big Ass Sandwiches" that is currently in the Apple review process.
Peloke said that once the restaurant pays, they can have the app sent to Apple within a week.
When the Apple review process is complete, customers can download the restaurant's application online for free. The restaurant pays a monthly subscription fee of $50 to Blue Shoe.
"I'm excited about it," Peloke said. "Everyone we've shown it to thinks it's a great idea and likes it."
Peloke also said that Blue Shoe is looking to put together a team of sales representatives to publicize their services.
All the apps created by Blue Shoe will also be available for download on the iPad. But Peloke said that he still thinks iPhone users will have the largest use for their apps.
"The phone is a lot smaller," he said. "Chances are they'll have the iPhone with them more."
Kaitlin Mayhew is a BizSense reporter. Please send news tips to [email protected].