The views expressed in Guest Opinions represent only those of the author and are in no way endorsed by Richmond BizSense or any BizSense staff member.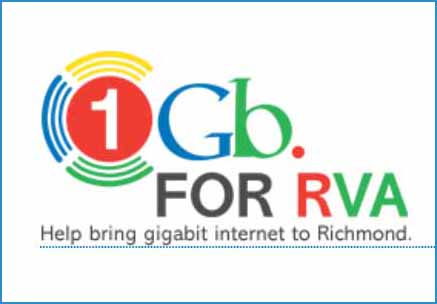 By now everyone knows that Google plans to build an experimental gigabit network for some lucky community and that Richmond has thrown its hat in the ring. (You can read about that in an RBS story here.)
With impressive speed, key elements of city government and the creative, economic development and business communities banded together to produce a video touting the benefits of Richmond and the reasons why our city would be a great candidate for the experiment.
Of course, 11,000 other communities raised their hands to volunteer for this project, and they have similar feelings about their communities, so it might take more than a snappy video to get Google's attention. But before we stoop to silly stunts like renaming the city (e.g. Google, Kansas, the city formally known as Topeka), let's stop and think about the deeper benefits.
What would it really mean to have gigabit broadband service? What could you do with that that you can't do at 1/10th or 1/100th the speed? Does anyone really know? I don't, and I've studied the broadband industry for more than 15 years, almost half of which I spent creating, financing and selling broadband wireless products around the world. But I do know that this capability will spawn applications that we can't even dream of now, and these will rapidly become "must have" toys and tools. Could anyone really have envisioned Twitter, YouTube, Facebook or eBay before we had broadband?
Think back about 15 years, when only a small fraction of the U.S. population regularly used services such as AOL, Prodigy or CompuServe. Those who did would go through the ritual of turning on the computer, dialing in with their 1200 baud modem, hoping that they wouldn't get the dreaded "can't connect at this time" message. The diehards would dial in at odd hours or pay long-distance charges to dial into numbers in areas. In other time zones. Of course, they paid for the service on a per minute basis, in addition to any telephone charges that they might incur. Using "online services" was very much a "get on and get off" proposition. And it was painfully slow.
It was about that time that Integrity Broadband, the company that I co-founded in Richmond, was deep into the project of building cost-effective, high-speed connections to allow businesses and residential users to "get online" at speeds hundreds of times faster than possible through the prevalent dial-up technology. And we were not alone. We all had a sense that if people could not only get online at a high speed but also stay online all the time, the experience would change for the better in fundamental ways. Of course, it did, and the "paradigm shift" (a popular phrase from that era) from accessing propriety services via session-based narrowband technology to today's always-on, high-speed World Wide Web brought about change that has far exceeded even my optimistic expectations at that time. It's not an exaggeration to say that trillions of dollars of new wealth have resulted.
Now Google wants to do it all over again. In the United States today, if you're fortunate, you may be able to get 50 Mb service from Fios or your cable company, and you pay a premium. In Japan, 100 Mb service is commonplace and costs a fraction of what we pay here. If Google can bring gigabit service via fiber to the home and make it affordable, we can leapfrog the rest of the world and reestablish our position as the world leader in the development of new applications and services.
Google knows this, and they're putting their money where their mouth is. They will face formidable obstacles, including competition from entrenched providers, and probably regulatory and legal hurdles as well. Let's hope that they are able to surmount these obstacles. Even with today's speeds, most people have hardly begun to tap the productive, creative and entertainment potential of the Internet. But that shouldn't stop us from thinking ahead and being prepared for the next wave.
Back in 1994, when I promoted my company to investors, both local and national, one of the questions was always, "Why Richmond?" But when our company beat the likes of Cisco, Lucent, Alcatel and others by winning a contract to blanket Denmark with broadband service, we answered their question. (Yes, it's a small country, but $400 million is not such a small number.)
If we want Google to select Richmond, we need to emphasize the creative resources of our city, which are disproportionate to our size. With world-leading creative and professional services, Richmond is a net exporter of creative output. Give us gigabit broadband capabilities, and just imagine what we might produce. In today's world of telepresence, telework and real-time collaboration without regard to distance, the old real estate saw "location, location, location," has taken a back seat to "connection, connection, connection." So whether we're selected by Google or not, let's prove to the world that Richmond can compete and win against the best in the world. And if anyone asks you, "Why Richmond?" – just answer, "Why not?"