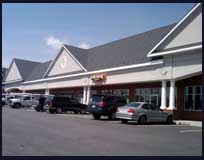 Before the recession, there were certain facts you just didn't question in commercial real estate. As long as developers built new strip centers along the region's major thoroughfares, such as Mechanicsville Turnpike, shoppers would come a-spending. Until they stopped coming, that is, and stores lost interest in taking the latest space. All of a sudden, the old rules no longer applied.
Take Stonewall Square, for example, which was completed in 2008 at Mechanicsville Turnpike and Creighton Road. After a year on the market, the 16,000-square-foot strip center's first tenants are finally moving in.
The center is represented by Wilton & Co., and broker Jeff Doxey said that the landlords had to adjust the rents to make the property more attractive to tenants.
"Everyone was sitting on their wallets when the market first hit bottom, and tenants were hard to come by," said Doxey.
The first to move in was Firehouse Subs, and local child development center Romp-n-Roll is working on a space there now. (You can read more about Romp-n-Roll in an RBS story here.)
Sprint Mobile and Chanello's Pizza have also signed leases, leaving only four storefronts open at the center.
"You create a little interest with a tenant or two, and it attracts others," he said.
7-Eleven occupies an out parcel, and First Capital Bank will begin building a branch on another out parcel soon.
"Financing is the key," says John Jay Schwartz. The recession "basically put a halt to any new project out there."
Schwartz, who runs the real estate firm Have Site Will Travel and works heavily in Mechanicsville, said things are pretty quiet, although he has a few deals he is negotiating.
"I got a few things in the works," said Schwartz, "but I don't see a great number of commercial users coming there. It is going to be slower growth."
The past couple of years, the area has been fairly quick to develop, with several large shopping centers going up as well as big boxes such as Lowe's, Kroger and Best Buy. But Schwartz said that the economy has sidelined many investors and that a lot of land has gone back to the banks. He said he represents three or four different institutions that own parcels in the area.
"The inability of some people to stay in the marketplace caused banks to take over a number of properties in that corridor," said Schwartz. He said the banks are looking to unload the land but at the same time want to avoid taking a beating on the price.
Schwartz said that he is spending a great deal of his time working to find the right projects for the area but that many of the traditional options, such as car dealerships, have dried up.
"To put up a dealership today of one of those basic brands, you are talking somewhere between [$8 million] and $10 million," said Schwartz. At a time when car companies are cutting dealers, that type of deal isn't likely.
More likely might be a movie theater, a retail attraction that has had on-and-off-again proposals in the Mechanicsville area for decades.
"There is a great deal of interest today in a movie theater coming out there," Schwartz said, adding that he has talked to a couple of them. But the cost of development remains an obstacle when banks aren't lending as much to new projects, he said.
In the meantime, recently completed shopping centers are working to fill empty retail space.
As for new projects in the area, he hasn't heard of anything on the board.
"There are more vacancies we have to see absorbed in the other properties, and also the banks' lending needs to loosen up," said Doxey.
Development of other sections of Hanover has slowed as well. A contract for Horizon Group of Illinois to buy 28 acres for $7.7 million at Winding Brook near Ashland fell through during the second half of last year, according to bond disclosure documents. They planned to build a 375,000-square-foot outlet mall.
Kay Pangraze, development director for Holladay Properties, which owns Winding Brook, said in an email that the company is in discussions with several other retail developers that specifically own and operate outlet centers.
Last June, Water Street Development of Washington backed out of a $13.95 million deal to buy a separate parcel at Winding Brook to develop retail shops. According to Winding Brook's bond disclosure forms, Konover Development of Connecticut has a contract to close on the same property in May for $13.86 million.
Holladay also reported that they are in negotiations with three restaurants for sale or ground leases and that a hotel under construction by Sane Hotels LLC will be open for business in September.
Look for a follow-up to this story as we take a look at another part of Hanover where more development is starting to take hold. Developers recently bought 5.6 acres at Atlee and Chamberlayne (see this week's Pipeline) and plan to build a retail center there. We'll also check in to see how leasing is going at Rutland Commons, a major development in the same area.
Al Harris covers commercial real estate for BizSense. Please send news tips to [email protected].