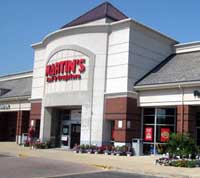 Richmond, meet Martin's.
And get used to walking past a beer and wine aisle and an expanded organic and natural food section.
Four reincarnated Ukrop's supermarkets opened Monday as Martin's Food and Drug stores, a division of the Dutch supermarket company that also owns the Giant chain.
Martin's invited members of the media to tour the Sport Pump location.
The stores are better lit than before, with some different colors: The employees wear light green instead of dark green. But some things are the same. For example, Martin's will still carry bakery and prepared goods from Ukrop's and will not sell racy gossip magazines at the checkout counter.
Company spokesperson Tracy Pawelski said the grocer conducted several focus groups
and did a survey online.
"The choices we made were a reflection of what we knew people wanted," Pawelski said.
Martin's business plan might be a challenge to pull off. Profit margins in the grocery business are notoriously slim, and there is fierce competition in Richmond. That's one reason Ukrop's started losing market share in the past several years. New entrants such as Whole Foods and Trader Joe's lured away some of the top-end customers while Wal-Mart, Food Lion and Kroger competed for those who shop on prices alone.
It's also possible, at least in the short term, that Martin's could lose some Ukrop's loyalists who miss their local grocer.
For those of you who might not get to a Martin's for a few days, BizSense breaks it down for you below.
What's new
Among the most talked about changes is the addition of beer and wine, upending an unbroken Ukrop's tradition. The selection is modest, taking up about one aisle. It is smaller than a typical Kroger beer aisle, but it includes Virginia wines and locally brewed Legend beer. (You can read about that company here.)
Adding more refrigeration is one of the biggest costs in redoing the stores, according to Pawelski. But it isn't just for booze.
Pawelski said the store now carries about 30 percent more produce. Martin's has also doubled the variety of natural and organic items it sells.
Martin's brought it in its own corporate brands, so that means no more Joe's Market or Food Club products. That was a blow to Supervalu, a major supplier of Ukrop's generic products. The company, with a major distribution center in Hanover, announced it would lay off 80 people.
Other major renovation costs include lighting to make the store brighter and painting and cleaning.
Martin's also has computer kiosks throughout the store that allow shoppers to look up and print recipes, as well as order items from the cafe or deli.
Wi-Fi will be available at all stores, up from just eight Ukrop's stores.
There will also be some new faces. In addition to hiring all of the stores' 3,600 associates, the company is looking to hire about 150 people to work the expanded hours (up to midnight from 10 p.m.) as well as on Sundays. Most of the associates now wear bright green shirts.
What's not new
Martin's said it will continue to hire workers with disabilities, as Ukrop's did.
Loyal Ukrop's customers will also be excited to find White House rolls and rainbow cookies still for sale and made by Ukrop's Kitchen and Bakery — what remains of the Ukrop family business. The Ukrop's name is still used extensively on bakery and prepared food items that they will continue to supply to the 25 stores. The cafe area also mostly serves up original Ukrop's recipes, including the salad bar.
Associates will still carry groceries to the car without asking.
Martin's will continue to do business with local farmers that had been doing business with the stores, under its Local Route program.
"We're using the exact same farmers," said Pawelski. "And maybe we can help them grow their business and have them supply more stores and help them build capacity."
Pawelski said that a recent meeting with local suppliers went well and that they reassured them that the relationships would continue.
Another holdover from the way that the Ukrop family did things: Martin's won't be selling gossip and glamour magazines, which frequently have covers that feature references to sex. The company sells them at the chain's other stores.
Al Harris is a BizSense reporter. Please send news tips to [email protected].